---
Work & Travel USA Participants Think Globally and Act Locally!
---
2 minutes
Image courtesy of InterExchange
Eradicating Extreme Poverty and Hunger is the number one Millennium Development Goal of the United Nations. One of the most effective ways to get involved in addressing this global issue is to start on a local, community level.
The InterExchange office is located in one of the largest and most populous cities in the world. According to the Coalition for the Homeless, there are more than 55,000 homeless people in New York City. A lot of New Yorkers in need depend on charitable food programs, which are available to them through local soup kitchens and food pantries. These vital organizations depend heavily on the help from volunteers to service the community and make sure that no New Yorker is hungry.
This winter, InterExchange partnered with New York's largest emergency food program, Holy Apostles Soup Kitchen, and invited our Work & Travel USA program participants from Paraguay and Costa Rica to join together with New Yorkers for a morning of volunteering and learning.
We are helping people in need this morning. 1,000 meals served! @HolyApostlesNYC #iexculture #celebratejday pic.twitter.com/2qPrk8RZFD

— InterExchange (@InterExchange) December 16, 2015
We served 10,000 meals that day! We also volunteered at different stations: food and beverage, social services, and cleanup. One of our participants shared with me that she volunteers regularly at a local food bank in Paraguay and the set-up is quite similar to the one at Holy Apostles Soup Kitchen. One student commented that "it was very nice to serve people in need, to see them smiling and enjoying some food. It was a pleasure to help others." After our busy morning, we all enjoyed traditional New York City pizza and discussed the issues of hunger and poverty in New York City, the U.S., and abroad.
Work & Travel USA participants volunteering their time and helping New Yorkers in need #iexculture #celebratejday pic.twitter.com/5CHgob5cNl

— InterExchange (@InterExchange) December 16, 2015
This experience showed our participants how they can make a change on a global scale by joining volunteer projects in their U.S. communities and back in their home countries. Perhaps, some of them will bring this experience home and will volunteer at – or even start! – a local soup kitchen!
Tanya Burovtseva
An international exchange alumna originally from Ukraine, Tanya started her career at InterExchange in 2011. Tanya is passionate about travel and cultural exchange and enjoys meeting J-1 exchange participants at InterExchange events.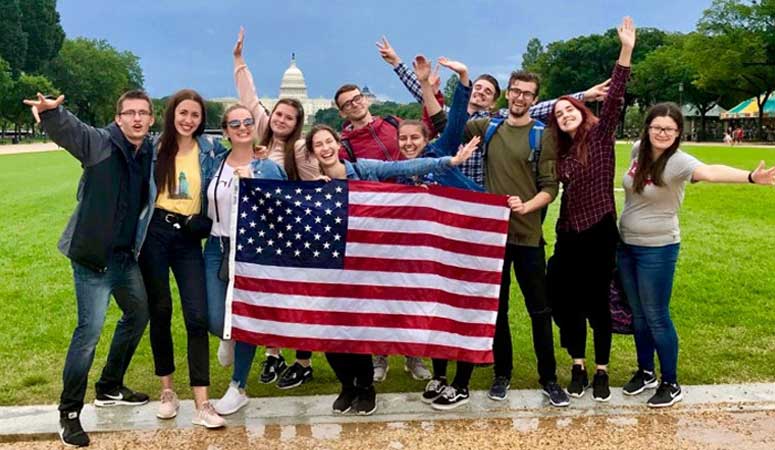 Experience American culture while working and exploring the USA
Sign Up
Learn More
Call Us