---
#TBT to InterExchange Work & Travel USA Arrival Orientations
---
2 minutes
It's been more than a month since InterExchange Work & Travel arrival orientations took place in four major cities across the U.S.: New York City, San Francisco, Denver, CO, and Reno, NV. Over the course of three weeks, we met 300 Work & Travel USA Program participants from Argentina, Brazil, Nicaragua, Costa Rica, Paraguay, and Peru.
One of the most enjoyable parts of the arrival orientations is meeting our participants in the very beginning of their American adventure. This gives us the opportunity to discuss their program goals and travel plans, as well as give them advice regarding places of interest in NYC and other cities.
The InterExchange office is located in New York City's Financial District, or as New Yorkers call it, FiDi. We gave all of the participants who attended an orientation in NYC a specially designed cultural map of the city and a walking map of Wall Street.
Download the map to take the tour yourself!
One group of students decided to explore Wall Street together. They used their InterExchange maps to walk from the InterExchange office to the New York Stock Exchange, where they were greeted by traditional holiday decorations:
Our Work & Travel USA participants toured #WallStreet after their arrival orientation in #NYC today #iexculture pic.twitter.com/Tms04ZNLVH

— InterExchange (@InterExchange) December 10, 2015
Another group took advantage of the warm weather and walked to the historic South Street Seaport to enjoy the iconic view of the Brooklyn Bridge:
Cultural component is an important part of every #NYC orientation. This group got to see the #BKNbridge #iexculture pic.twitter.com/EwczhWhU8x

— InterExchange (@InterExchange) December 15, 2015
Students from Paraguay and Brazil learned about American history at the Federal Hall, where the first U.S. President, George Washington, took his oath of office:
Exploring Federal Hall with Work & Travel USA participants from #Paraguay and #Brazil! https://t.co/hiDzY0X029 pic.twitter.com/YTlFfPbo5P

— InterExchange (@InterExchange) December 14, 2015
Thank you everyone who attended InterExchange arrival orientations. We look forward to welcoming you at our office next time you visit NYC!
Our last #NYC orientation session this Winter and great students from Paraguay and Brazil! #iexculture pic.twitter.com/9YlUAEubcu

— InterExchange (@InterExchange) December 17, 2015
Tanya Burovtseva
An international exchange alumna originally from Ukraine, Tanya started her career at InterExchange in 2011. Tanya is passionate about travel and cultural exchange and enjoys meeting J-1 exchange participants at InterExchange events.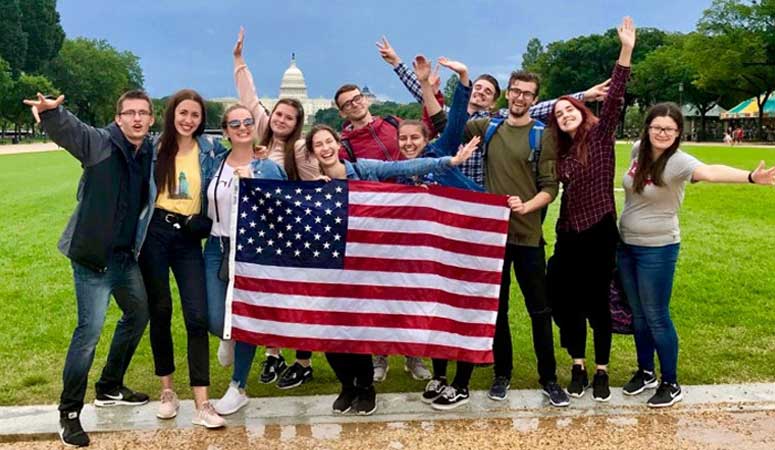 Experience American culture while working and exploring the USA
Sign Up
Learn More
Call Us