---
Year of the Host: February 2016 Cultural Digest
---
2 minutes
When we travel abroad, there are things that we get to experience for the first time in our lives. This could be local food, nature, holidays or weather. The majority of InterExchange Work & Travel USA participants in the winter season come from countries with warm climates. During InterExchange arrival orientations, we learned that some participants have never seen snow and were thrilled to experience skiing, snow tubing, skating and snowboarding. Organizing outdoor activities is a very popular way for our Winter hosts to keep participants engaged and to create new experiences for them. Here are just a few cultural activities that InterExchange hosts organized in February:
Participants  at the Chula Vista Waterpark and Resort enjoyed two nights of snow tubing at Cascade Mountain in Wisconsin Dells, WI. For most, it was their first time going down the 800ft snow run. Participants also enjoyed an outdoor fire to keep them warm in between fast and fun tube runs.
Jackson Hole Mountain Resort invited participants to experience a variety of cultural events: Employee Olympics, Australia Day Celebration and 'Rendezvous Weekend Concert Series'.
Deer Valley Resort hosted the Employee Appreciation Week and monthly contests to win prizes.  Participants had the unique opportunity to witness the FIS World Cup and Sundance Film Festival. The resort also provides all exchange participants with a free bus pass to visit Salt Lake City as well as a special guide for things to see and do: museums, art galleries, and the State Capitol just to name a few.
A lot of exchange participants spend their free time by visiting and exploring cultural opportunities in major U.S. cities. For example, participants at the Whitetail Resort visited New York City and Philadelphia. Participants at the Bromley Mountain Ski Resort explored NYC and Boston. In addition to travels, they also enjoyed English lessons with local teachers, observed the process of making maple syrup and had fun at a bowling night hosted by their employer.
We look forward to sharing all the new exciting ways InterExchange host employers engage their international guests. Stay tuned for the next "Year of the Host" post and visit the InterExchange Cultural Activities Toolkit for new ideas!
Tanya Burovtseva
An international exchange alumna originally from Ukraine, Tanya started her career at InterExchange in 2011. Tanya is passionate about travel and cultural exchange and enjoys meeting J-1 exchange participants at InterExchange events.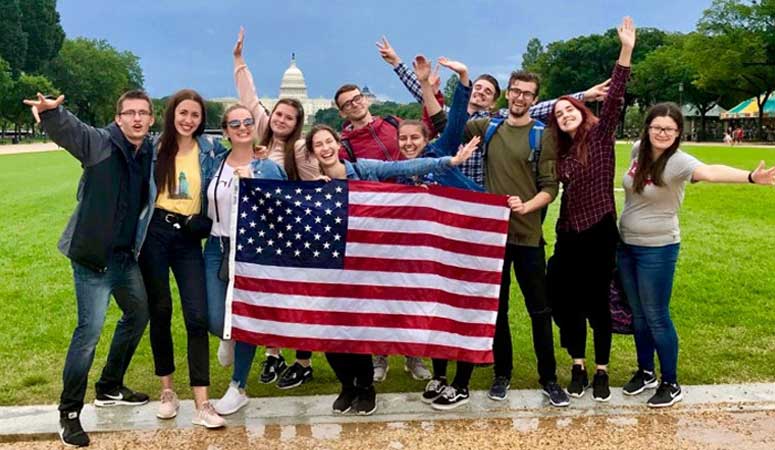 Experience American culture while working and exploring the USA
Sign Up
Learn More
Call Us