---
Cultural Digest: Summer Highlights Part 2
---
2 minutes
Summer is a busy season for Work & Travel USA exchange participants and their American hosts. It's also a great time to experience American culture and have some fun. Here are some enjoyable activities that took place around the country:
Pacific City, Oregon
With assistance from their host employer, participants explored Tillamook County, visited the Tillamook Cheese Factory, and enjoyed kayaking and paddleboarding on the Nestucca River.
Healy, Alaska
Participants enjoyed an international potluck organized by their host employer.
Eastport, Maine
"Olga has taken an artisan bread making class at our local art center. We also took along another exchange student, Ksusha, who works at a local restaurant. Olga has also taken a fabric landscape class at the center as well. This weekend, there is the Machias Blueberry Festival which she will attend." - Susan Lara
Alexandria, Virginia
"In July, we brought 80 lifeguards to Ocean City, Maryland for the day. We provided food and drinks and organized beach volleyball games." - Trudy Turcote
Orleans, Massachusetts
Participants celebrated the Fourth of July with their American host employer.
Big Sky, Montana
"This has been a fantastic group of students. As we shared information about America, they were able to fill us in on information about their home country as well. I feel like we were all able to learn and enjoy our time together! Everyone also worked very hard and excelled in the job they were placed. We recently traveled to Lewis & Clark Caverns located in a Montana state park. Exploring the caves, learning the history, and enjoying a group lunch made for a very fun day! We will be sad to see these students leave!" - David Mars
Tanya Burovtseva
An international exchange alumna originally from Ukraine, Tanya started her career at InterExchange in 2011. Tanya is passionate about travel and cultural exchange and enjoys meeting J-1 exchange participants at InterExchange events.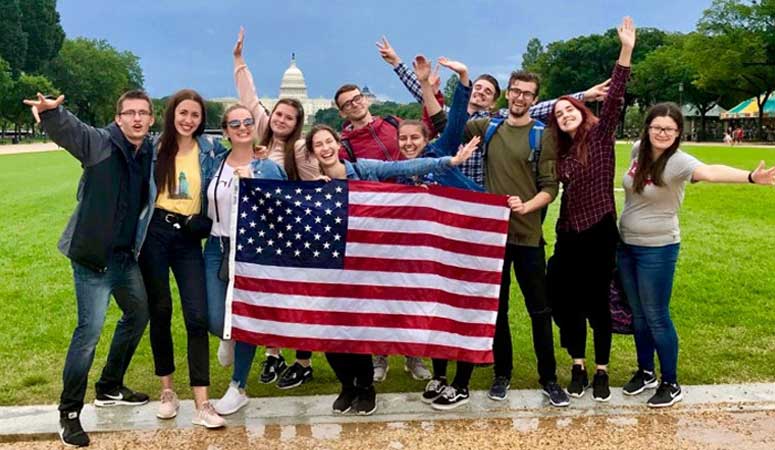 Experience American culture while working and exploring the USA
Sign Up
Learn More
Call Us