---
9 Things to Know Before You Travel This Summer!
---
8 minute read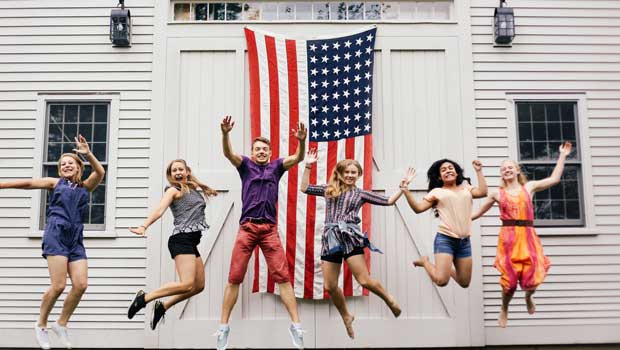 You may have encountered American culture in a variety of ways in your home country– through the news, music, or at a local restaurant – but you'll soon experience the real American "melting pot" where you'll encounter a friendly culture, sample a variety of well-loved cuisines, and traverse beach, mountain, forest, and city terrains.
Like many of the adventurous international students who travel through the USA every year, you might be a bit overwhelmed at first! To help you along your journey, we asked our returning participants for their top tips to prepare for this big move. With a little patience and some planning, it won't be long before the USA feels like your second home.
1. Budget and plan ahead
You may have finalized your job and accommodations for the summer, but if you haven't budgeted for daily as well as unexpected expenses, you're missing the biggest piece of your travel puzzle. Start estimating your cost of living expenses now to ensure you can cover those unexpected expenses, as well as avoid overpaying for your basic expenses.
Some of our former participants have been caught off-guard by some of these expenses, including:
Phone bills: Your mobile service is your responsibility, so make sure you've budgeted enough for local service. You'll have several options for staying in touch while abroad.
Housing: Many participants find that their housing accommodations are not furnished. Don't forget to bring some money to buy basic amenities at the beginning of your trip.
Be sure to know the amount of rent and how much money you need for living for three-week period, because you will receive your first paycheck only after three weeks approximately. Natalia, Russia
Try to book everything in advance: a bus ticket, a room in a hostel, etc. This way you'll get them much cheaper. Aidana, Kazakhstan
2. Learn the language
One of the fastest ways to get comfortable in a new country is by speaking the local language. If you dedicate some time to practicing your English before arriving in the USA, you'll be better equipped to work with your host employer, make new American friends, and find out about local events in your town. If you hear a phrase or a slang word you don't understand, don't be afraid to speak up and ask what it means!
Speak English the way you can and be confident; nobody will judge you for the way you speak. Don't hesitate to ask for help from people around you. People in the USA are friendly and ready to help at any time. Yekaterina, Kazakhstan
The summer was amazing I traveled over all U.S. and I really improved my English and people skills. Laura, Colombia
3. Embrace the culture around you
Your new host community will undoubtedly be exciting for the first few weeks, and a few frustrations here and there won't spoil your enthusiasm. But many participants deal with culture shock when they first arrive in the U.S. Trying to understand different values and unfamiliar habits can be tough. Remember that you're not alone in dealing with these feelings, but there are also effective ways to cope with culture shock.
Be friendly, spread positive vibes, leave your arrogance behind the door, take everything what is given, experience unexperienced (sic), try every possible opportunity in any field considering new skills, respect locals and other exchange students; to put it in a nutshell- when in Rome, do as the Romans do. Laura, Lithuania
… I'd advise them to be open-minded and embrace the American culture. I've had a lot of friends who had difficulty coping with life there, but … I tried to be open and friendly with everyone. My manager offered me to live in his house and I ended up spending the best American summer ever in a real American host-family. Rakhmatullo, Uzbekistan
4. Pack the right clothes
One of the biggest surprises you might find in the USA is that the weather can vary wildly: a warm day on the coast of Maine, for instance, will likely be cooler than a warm day in Virginia Beach. Research your placement location ahead of time and check both the daytime and nighttime temperature of your destination, as well as the expected weather for each month. Make sure you also have a set of clothes for different kinds of weather conditions: you may spend much of your time in a dry climate, but you'll wish for a rain jacket if you travel to Florida in August.
Warm clothes, because there are air conditioners everywhere. It's cold, especially in buses. Aidana, Kazakhstan
Warm clothes, because in September in some parts, it gets really cold. Erika,Romania
5. Get to know your community
Americans are famously friendly, so don't be afraid to attend community events! InterExchange often works with local communities to organize cultural events. These events are a great opportunity to make new friends, meet the local people, and get a unique insight into American culture. If you've never attended a baseball game, participated in a volunteer event, or enjoyed an American pizza party, these events are your gateway!
Our event page is updated regularly and lists the closest events near you. You can also follow our #ThinkLeadership campaign to find opportunities to grow your leadership capabilities and skills while in the USA!
Honestly, everyone is different and enjoys different things. The most important thing is to enjoy their time, talk with American citizen; most of them are really open and want to hang out. Kliment, Macedonia
Make friends with Americans and other foreign students - it's so easy to get sucked into an Irish community. Don't get me wrong, there's nothing bad about that, but wouldn't it be nice to make some friends from other parts of the world? Rút Ní Mhurchú, Ireland
6. Don't forget any necessary medications
Medical care is notoriously expensive in the U.S. and some over-the-counter medications are no exception. Save your spending money for your post-travel period, and carry any necessary medicines with you: contact lens solution, etc. Keep in mind some additional medical expenses (like copays or emergency room visits) may not be covered by your insurance and you'll have to pay the amount out of your pocket. Budget for at least one visit to the doctor or, if you can, one ER visit.
I'd tell them to pack some medicine for sure. Because the only problem I had was when I got really sick and the local clinic said they don't accept my insurance. And I didn't have the required [medicines]. CVS refused to sell them without prescriptions. Rakhmatullo, Uzbekistan
7. Consider your banking options
Don't leave money on the table. No matter how strong your home currency is, research the exchange rate before you leave home and try to get the best exchange rate possible if you are bringing cash to the U.S.
If you are using your bank account from your home country, ask the bank what they charge for overseas use. You could also open a local bank account in the U.S. to avoid all additional international charges. Our banking guide outlines what you can expect when you open an account and the documents you will need.
Open bank account and keep all your money on it; just [carry] small amounts with you to spend. Dragana, Bosnia and Herzegovina
8. Be a savvy traveler
Whether you're planning a weekend getaway or a long road trip during your travel period, follow these tried-and-true travel tips from past participants:
Transit: We've all been there: we've misplaced our baggage or your airline lost your checked luggage. Don't ruin your otherwise well-planned trip: Keep a change of clothes, important documents, and any other essentials in your carry-on luggage.
Driving: A great way to explore the U.S. is by going on a great American road trip. You should make sure to get an international driving license before coming here. Be aware of the rules and regulations. Get familiar with driving in the U.S. and see if are eligible to get a local driving license.
Long weekends and holidays: If you want to travel during holiday weekends between May and September - Memorial Day, Fourth of July, or Labor Day - make sure you budget accordingly. Traveling during those days can be expensive, and you'll find that car rental rates and airfare may drastically increase. Use our travel resources that could give you some helpful tips depending on where your travel plans.
I would put my most important stuff (money, documents, computer) in my handbag. Last time when I arrived to U.S., my luggage was lost and I only got it back after a week! Fortunately, I had my money on me, so it did not cause too much problems apart that I had to wear the same clothes for a week. Aurimas, Lithuania
If you want to rent a car, take a credit card with you. David, Czech Republic
… I asked everything starting from the flight, housing, culture tips and tricks, food information and so on. So I would suggest everyone to browse everything, to get all the information they think they need. Some people don't bother too much, some do. It's a matter of personal choice. Kliment J., Macedonia
9. Carry Souvenirs
Want to make an impression on American colleagues who are curious about your culture? Bring small gifts or souvenirs from home for your host employer or for any new friends you will make in the United States. These gifts need not be an expensive item, but it should represent your culture: your favorite candy, for instance, or perhaps some postcards from your favorite hometown artist. You are going to share some incredible memories with people here, and it's a nice gesture to leave behind an item that represents your homeland.
I would tell him to pack some souvenirs from our country, because the night where we talked each about where we came from and exchanging souvenirs with all the students around the world we worked with was one of the best. Ionut, Romania
Learn first your home country's history and culture. Take a picture and something which expresses about your country; it is always interesting for American friends. Sardorbek, Uzbekistan
By Smita Jayaram
Smita is our Work and Travel USA Communications and Data Coordinator. She holds a Master's in Communication from St. Joseph's College and a Bachelor's in Journalism, English & Psychology from Mount Carmel College.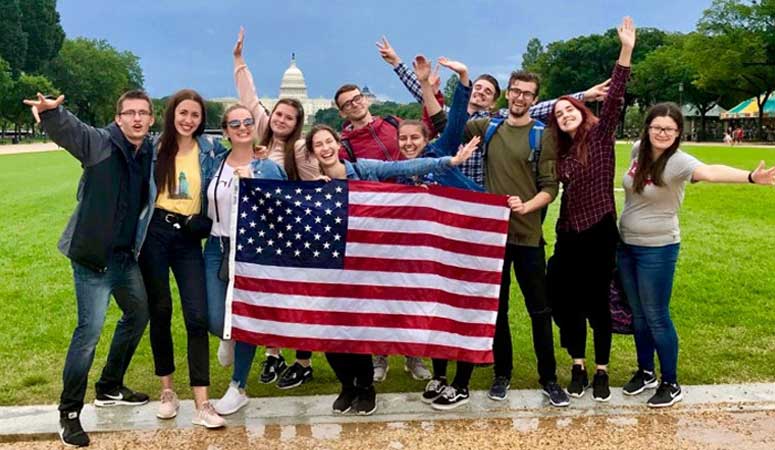 Experience American culture while working and exploring the USA
Sign Up
Learn More
Call Us