---
InterExchange & SAYIT Host J-1 Fair in Dublin
---
53 minutes
Interview and secure a job with an American host employer in Dublin!
InterExchange and our longtime Irish partner, SAYIT Travel, are excited to return to the Gresham Hotel on January 26th and 27th for the 2018 Dublin Job Fair.
Thirteen employers from numerous destinations across the USA will attend the job fair to conduct in-person interviews with Irish students to hire for over 500 open positions. Many of the attendees will leave the fair with confirmed job offers!
To Sign Up for a Job Fair, please reach out to SAYIT at j1visa@sayit.ie to start your application.
Who can you work with?
What To Expect At The Job Fair?
You will meet and interview with InterExchange host employers in hospitality, food service, tourism, and the amusement park industry from across the United States. During your interview, you will have the opportunity to ask questions and decide which roles are the best fit for you. InterExchange staff will be there to answer any questions you may have about the J-1 application process. You will also meet fellow J-1 participants with whom you may end up working alongside! Be ready to interview one-on-one with a host employer or in small groups with your fellow J-1 applicants.
How To Prepare For Your Interviews
Before attending the job fair, carefully read over the employer's promotion page. You can get a clearer idea of what the job is going to be like by reading the provided information

Do some research about the host employer and their surrounding area. Check out their website, social media accounts, and neighborhood.

Talk to your friends! Get advice from people who have completed the J-1 program in the past. They'll help you understand what you can expect during your program.

Know your program dates! Your work start and finish dates are really important to host employers and that will definitely be a question they'll ask you. Do some research on your university exam dates so you can best estimate your working dates.

Bring your resume with you. There won't be an opportunity for you to print your resume at the Gresham, so make sure to come with a few additional copies of your resume.

Complete your InterExchange application. To speed up getting your job offer, make sure the application has been filled out and submitted to InterExchange. If you have any questions about your application, let us or SAYIT know and we'll be happy to help!
After The Job Fair
Shortly after the Job Fair SAYIT will let you know if you have been offered any positions. Once SAYIT reaches out to you with your offer, you have 24 hours to accept or decline. After accepting a job offer, InterExchange will create and send you an official job offer on your InterExchange online application.
Then the hard part is over! SAYIT and InterExchange will help you with the next steps in acquiring your J-1 visa, and you can spend more time preparing for an exciting summer in the USA!
Marissa Quintero
Marissa's passion for travel and cultural exchange make her feel right at home at InterExchange as the Regional Manager for the Work & Travel USA program for Irish participants. Before moving to New York City in 2015, Marissa taught English in Argentina and has traveled through many countries in South America. She is originally from Colorado and loves a good après ski.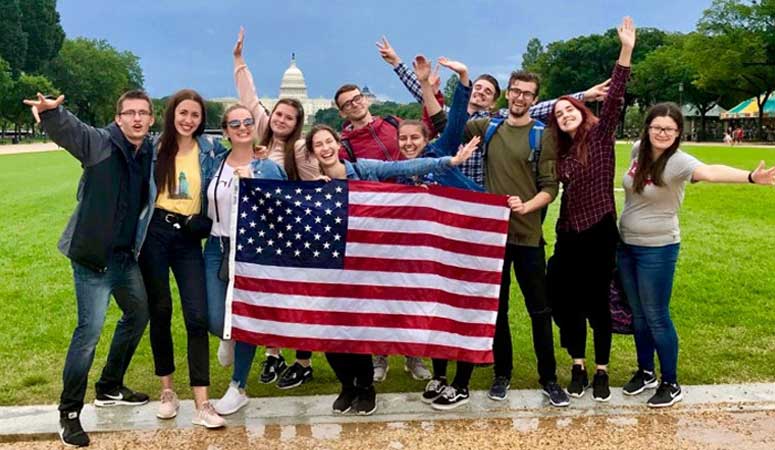 Experience American culture while working and exploring the USA
Sign Up
Learn More
Call Us