[caption id="attachment_263" align="pull-right" width="211" caption="Machu Picchu anyone?"]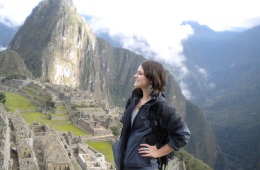 [/caption]
The numbers keep piling up in favor of gap years for new high school graduates. Seen as one of those "once-in-a-lifetime" opportunities to travel, experience another culture first-hand and even make some money, a gap year also gives students the chance to mull over what they want to major in while gaining that ever-elusive "real world" experience. And you can do all of this instead of spending money your freshman year pursuing a major that will eventually change. InterExchange Working Abroad has many different opportunities for your gap year. Check them out here.
A traditionally European notion that was never really cemented in the American frame of thought, the gap year is starting to become more and more popular as the benefits of international exposure begin to surface in the consciousness of American parents and their college-bound kids.
But besides all of that practical stuff, a gap year can be an amazing experience! Climb the stark mountains of northern China; volunteer at a fair trade weaving co-op in Guatemala and learn Spanish; try guinea pig in Peru on your way to Machu Picchu with a people completely connected to their ancient ancestors in a way Americans could never be. The world is your literal and figurative oyster!
For an amazing first-hand account of a successful gap year, check out a blog post from New York Times columnist Nicholas Kristof's son – Gregory Kristof – as he recounts his experiences in China.
But, hold on a second. I know, it sounds like an amazing adventure to travel across the world. And it is! But, keep in mind that there are several things a gap year most certainly is not. And it is important to know the good and the (not really that) bad before committing to a couple of months to a full year in another country. A gap year can be used as a year of volunteering, working as an au pair, as a WOOOF farmer or as an intensive language-learning year. Really, you can do whatever you want. InterExchange has incredible opportunities you can apply to in Europe, Africa, South America and Asia. You will probably have more responsibility than you have ever had before. People will be counting on you and your year probably won't involve the carefree café scenes in Paris or shopping sprees you have seen on Gossip Girl! But, would you rather go shopping, or explore little towns on a volcanic crater lake in Guatemala?
I think Guatemala might just trump cafés!
Whether you choose to take a gap year, study abroad while in college (or both) or go abroad after you graduate (or all 3!), the time spent living and working in another country will be one of the most exciting and rewarding experiences of your life.
Check out InterExchange's Working Abroad programs for information on volunteering, teaching, becoming an au pair and working abroad and fill out an application. And even if you are past the gap year stage, our programs are great for taking time off of university or working while traveling after you graduate! Now, go explore!