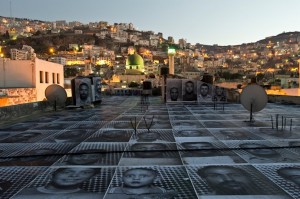 I have been a fan and follower of the Parisian street artist and photographer JR for years now. And much to my joy (and I must admit, chagrin), his incredible work has finally reached the international stage with a 2011 TED Prize win for his "Inside Out" project. JR and his team started this project — where people from all over the world can send in pictures of themselves and receive back a blown up, black and white version to paste as visual street art wherever they want — after the social and commercial successes of his other projects in the Middle East, Africa, South America, Asia and his home city of Paris.
Addressing social injustices, misconceptions and the fact that we are really all the same despite our differences, JR took picture of Jews, Christians and Muslims in Israel and Palestine and pasted them side-by-side in the towns and neighborhoods that see the most social and political tension. This project, called Face2Face, gave JR's "social art" a lot of attention in the cultural and non-profit circles of the world. Another project — Women are Heroes — saw beautiful portraits of women pasted on trains in Kenya, rooftops in the favelas of Rio and the markets of India; places where women are traditionally marginalized. Women are Heroes was also turned into a film that follows JR and his team through the process of shooting and pasting these evolving art pieces throughout the world — and some of the inspiring women they met along the way.
Now, with his Inside Out social movement, JR has sent moveable photo booths to communities around the world. One of the most impressive and impactful turnouts was back in Israel, where thousands of Israelis and Palestinians took portraits of themselves and posted them in their communities, sharing their thoughts about their country and their hopes for its future. Check out this TED blog post about it: http://blog.ted.com/2011/09/21/photos-inside-out-project-in-israel-and-palestine/
So InterExchange Working Abroad participants, alums and prospectives, how can we do something incredible like this in our own communities? Sometimes I forget how useful art is in bringing people together and spreading a message of connectedness and hope. What are your ideas of smaller-scale projects like this that could get your community engaged and thinking about solutions to some of the problems it faces?
Let's share ideas! And if you do happen to plan any projects like this, let us know with stories, pictures and videos!
Are you interested in going international with InterExchange Working Abroad? Learn more or apply now for the adventure of a lifetime!