So, we all know plastic water bottles are bad for us, bad for the environment and bad for our wallets. And with all the cool and sustainable reusable bottles out there, we really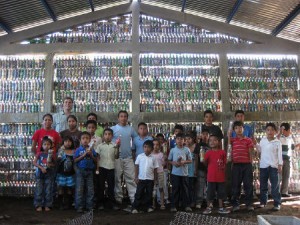 don't have any excuse not to use them. But, there are those times when we are out and just need a caffeine or H2O pick-me-up. And sometimes while living or traveling abroad, especially in developing communities, bottled water can be a necessity.
So, if you are anything like me, you will buy plastic bottles when needed and then religiously recycle them (always remember to remove the cap!). But, what if you can't recycle them? Or you forget? With so many articles and information about communities and their overwhelming plastic bottle consumption, I think there is something, especially in developing communities, we can do!
In comes Good, one of my favorite resources for all things new and opinionated in the world of social and environmental responsibility. The very week I was starting to panic about the spiraling lack of self-control by me and my other plastic-gluttonous peers, I read this little blurb about how communities are in Guatemala are using plastic bottles for good, not evil.
Check out the great ideas of one Guatemalan-based organization HERE
So, just like the JR post from last week, we are all faced with that moment of "to act or just to read and appreciate, and then go back to watching the new Breaking Bad." Whether you live in Brooklyn, Omaha, the highlands of Guatemala or the towns of Spain, what can we do with the effects of our over-consumption? Does your community need a new school like in the article? Or perhaps a greenhouse for a community garden. Can you make a community-based art project with the left-overs of our plastic bags and bottles? Do you have the energy after all of the turkey to climb out of the tryptophan-induced haze and make this an "action" day?
Today, I'm all tryptophaned-out. But maybe tomorrow........