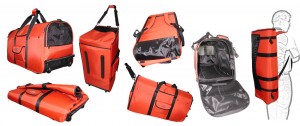 So, if you or anyone you know has a dog (or I suppose a very fat cat), you know how hard it is to travel anywhere. Even going across town is hard if you are without a car or in an urban area. So, in the spirit of the Holiday season, I am suggesting this (slightly uncomfortable-looking) backpack to be added for the dog enthusiast on your list. I found it while perusing the great blog Cool Hunting.
The backpack is called the Backpack-O-Pet — which may possible be the worst (but really best) name for a backpack for your dog. I guess it describes the product for itself.
Let us know what you think about this gift for the animal and traveler lover. Have any other travel-worthy gift ideas? Let us know!