My alma mater - the University of Wisconsin's School of Journalism - is grieving today after the death of one of its own, Pulitzer Prize winner Anthony Shadid. Heralded as one of the best foreign correspondents in modern times, Shadid spent over 20 years reporting from the Middle East. Fluent in Arabic and of Lebanese decent, he was most known for his humanistic approach to the otherwise sterilely-reported conflicts in the Middle East. He was truly able to convey the personal feelings of the people he was writing about.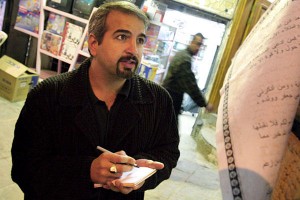 If you have the time today and are interested in Shadid's work, mosey on over to the New York Times and the Washington Post to read some of his past work. And for all those Kindle and Nook owners out there (or it you just want to go to a library), Shadid's book third and last book, House of Stone, is due out at the end of March this year. His two previous books are also great reads.
Tyler Hicks, an award-winning New York Times photographer, had worked with Shadid for many years and was with him in Syria. He posts many of his photographs with their back-stories in the Lens Blog, a part of the New York Times.