So, this post isn't going to be pretty. But, it is going to help you when you are at a roadside "rest stop" in the middle of nowhere and there are goats eating garbage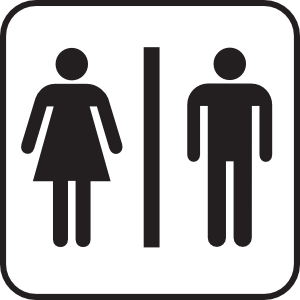 outside of the "ladies room" (this totally didn't happen to me). One of the guest lecturers in my magazine writing class at the University of Wisconsin's School of Journalism wrote this laugh-out-loud — albeit, very practical — piece for World Hum about how the rest of the world goes (you know).
Here's a quote from Frank Bures' — an award-winning travel writer — article about just how and why you are probably going to be doing this on your trip at some point!
Squatting is an ancient practice, but knowledge of it has recently been lost in the West. The flush toilet wasn't even invented until 1596. And toilet paper didn't become popular until the 1900s. According to the Toilet Paper Encyclopedia, pre-TP, humans used corn cobs, Sears Roebuck catalogs, mussel shells, newspaper, leaves, sand, hayballs, gompf sticks and the end of old anchor cables on ships. Ouch!

But the good folks at the TPE seem blissfully unaware that most of the world's people still use neither toilet paper, nor western sit-down crappers. Nor do they use corn cobs, gompf sticks or anchor cables. Because, while most of us in North America and Europe sit, people on just about every other continent squat, using water and their left hand. In much of Africa and Asia you can be hard-pressed to find anything else besides the squatter.