---
Going Abroad? How Do You Fit Your Life Into a Couple of Suitcases?
---
4 minutes
Teach English Thailand participants after receiving their TESOL certificates![/caption]
InterExchange Working Abroad participants going abroad this year have an important task at hand before they leave: fitting their lives into 2 suitcases and 1 carry-on. Anyone who lives abroad for an
extended time has to conquer this conundrum. And it gets even more complicated if your destination has all 4 seasons.
We rounded up our staff, who have all studied and worked abroad at some point, to get their opinions on what to pack and what to leave behind.
The Essentials
Meds. Any medication you can't get in your host country. One of our staffers taught English in Korea and was able to get any prescription and over-the-counter medication she used previously in the U.S. (and even found some Korean brands she liked better!). But before you leave, do a little research to see if this option is available to you. If you are going to be covered by a national healthcare system, there shouldn't be an issue. If not, you'll probably want to take enough of a supply to see you through your program duration.
Dailies. Think about what you really use on a daily basis and make sure to pack those first! Laptop, iPad, phone (more on this later), journal, camera, etc. These are the things you will still be using on a daily basis—with some changes—in your host country. Especially if you are on a year program. Don't forget that voltage converter and extra power cords!
No place like home. If you have a favorite cosmetic, toiletry item or other daily-use item you know you won't be able to get in your host country, make some extra room in your suitcase and stock up. You can search for average prices for some U.S.-based products abroad and see if it's worth it to you to bring them yourself. Keep in mind, most European countries, as well as Australia and New Zealand, will have mostly comparable items in their bigger supermarkets and stores, so don't bring a huge bottle of shampoo or soap. You may even find some products you won't be able to live without when you get back to the U.S.!
The essential essentials. Passport, copy of your passport and birth certificate, 2 copies of all of your travel information, the address and phone number of your host in your host country and where you will be staying when you first arrive, emergency contacts back in the U.S. and InterExchange Working Abroad's contact information and address.
Clothes
Don't bring your whole closet. If you are going to a country where there is a summer and winter, make sure to pack at least one pair of nicer boots and a coat or jacket. Think about what you normally wear at home ... you probably have a few favorite items you mix and match with other things. These are the items you should definitely bring with you! 2 pairs of jeans/cords/etc., a nicer pair of pants, cardigans and a week or two's worth of tank tops or short sleeve shirts will be your staples, just like at home. Shoes take up a lot of room in suitcases, so make sure you really prioritize and bring only the essentials (Note* if you are going to an Asian country and have bigger feet, you probably won't be able to find shoes there in your size, so pack more than your normally would). And remember, you WILL go shopping wherever you are! So don't worry about that second New Kids on the Block sweatshirt you love, but only wear twice a year.
Dress to impress. Make sure to bring 1-2 outfits that would work for a nice dinner or show. If you are going to be staying on a longer-term program, you may have the occasion to attend a wedding, nice dinner or the theatre.
Extras. Don't forget an umbrella, rainy day shoes, gym clothes and pajammas! You would surprised how many people forget their pjs and have to buy some! Also, athletic shoes can be very pricey abroad, so if you are a gym rat or think you'll be hiking or trekking anywhere, make sure to save room for your gym shoes.
Everything Else
Pictures. We recommend bringing some small/thin personal items with you, including pictures of family and friends, to remind you of home.
Phone or no phone? If you are staying for a longer period of time, you'll more than likely be getting a pay-as-you-go phone in your host country. This really is the best option if you don't want to up your service contract at home to an international one (very pricey). In many countries though, you will be able to turn on your phone and see what has already been saved on it (not true for all countries). Ask your service provider if this can be done without being charged extra and see if your SIM card is compatible with the country you will be living in. This can be useful to save addresses and other important info until you get a new phone and also to see pictures/video from back home.
Yourself. This is a no-brainer obviously. But, remember while abroad that you will be the best representative to your new community or yourself, your family and your country. Stay open, try everything once and remember that you are a guest and are learning new things about how the rest of the world lives. Culture shock happens to everyone in varying degrees and it is important to throw yourself into your new position, meeting as many people as possible and getting out there and exploring.
If you have any questions about the InterExchange Working Abroad's programs, send us an email at: workabroad@interexchange.org
Happy traveling!!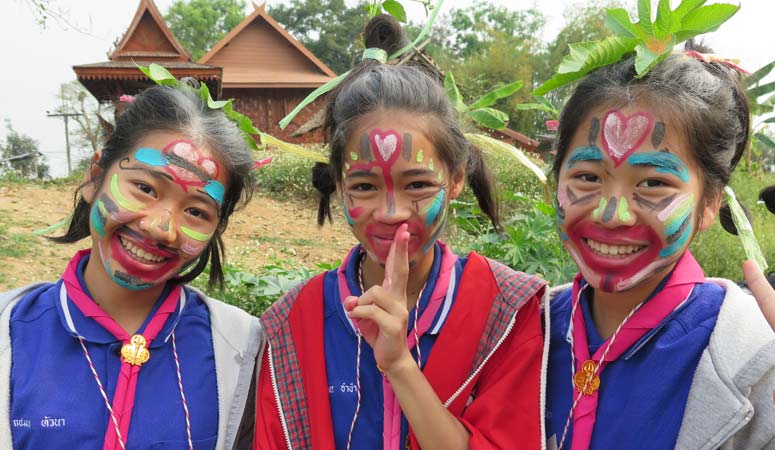 Boost your resume, earn a great salary, and immerse yourself in Thai culture!
Sign Up
Learn More