This goes mainly for people who aren't doing multi day treks, in which case you'll probably have porters (pobrecitos sniffle) to carry your stuff. You can also ignore this if you somehow are able to teleport. Or levitate things. Or fly.
But, if you're like us, you don't possess superpowers and randomly find yourself having to carry all of your stuff on a surprise 2.5 hour hike, you'll seriously regret bringing that toaster oven, or more realistically, all of those books you don't end up reading or that giant Costco bottle of shampoo (you can buy little packets of shampoo and soap for like one sol each). Pack light.
I realize that they have 4 for 1 Happy Hour deals in Aguas Calientes, but it just isn't worth it to be hungover for Machu Picchu. If you do decide to partake in this, drink responsibly!
Take a TON of pictures just like this: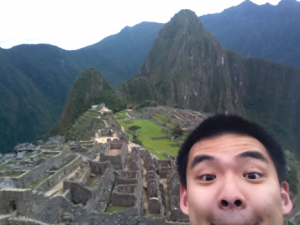 Photo courtesy of Tomhu
Yes. I was that guy awkward pictures with an iPad
See y'all later!
Tom