---
A Look Back at Buenos Aires
---
4 minutes
Ania is a participant in the Volunteer in Argentina program.
My time in Buenos Aires could not have been better. Both exploring the city and participating in my program allowed me to have my own balance between a structured and free schedule.
My first four week in Argentina were centered on deepening my understanding and communication skills in Spanish with the AMAUTA language school. After that I started my volunteer component of the  program which was working at a day care for kids with economically disadvantage backgrounds. I want to give you an idea of how both of these activities played out.
Learning Spanish in Buenos Aires
A fun night with AMAUTA teachers[/caption]
Learning Spanish with the AMAUTA teachers is completely different from how I ever approached learning Spanish in high school or college.
Let's talk about comic culture, social acceptance, intentional cuisine, cinema, Argentina history, you name it. No but seriously you name it… When the teachers found out that I am a huge foodie that loves to cook, my next four lessons were simply about food! It is always great learning anything from an angle that you can enjoy, and because of this, classes could not have gone by faster (in a good way).
Not only are the teachers the most down to earth and creative people , but they also show that they really want to get to know you and see you grow in your language abilities. Even outside the classroom they always keep to speaking with you in Spanish, even though their English is flawless. Since AMAUTA works on a rotation basis you get to know most of the teachers that work there pretty well. You might even get invited to some of their events like poetry reading or band concerts. In this way you really get to see the non-touristy sides of Argentina. Okay, I guess that is enough ranting about how much I loved my AMAUTA teachers….
Explaining the AMAUTA Program
Heres a little about the logistics of how the program is run...

On the first day of classes each student takes a test that places then in their language group. I took mine prior to my arrival and sent it through email. Many times students will be provided with a shorter private lesson their first week to get a feel on where their language ability lies. Private lessons are great because you really get to make those silly mistakes and get corrected on them without much embarrassment! Afterwords I was placed in group lessons with three other students. Group lessons definitely have their pros too. In group lessons not only are you learning Spanish but you also get a cultural bonus. My fellow classmates were from Japan, China, United States and Holland. How cool is that! AMAUTA provides you with the book as a resource but many of the teachers rather create their own lessons catered more towards what you think you need improvement on. After my four weeks were over, I was interested in taking some additional private lessons 4 hours a week. The neat thing about buying extra lessons is that there is a discount if you pay for them during your time volunteering.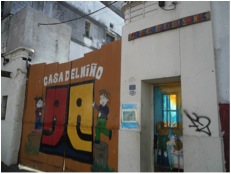 About My Volunteering Program
Would they place me with tiny kids? Would I understand their colloquialisms? I was not sure what to expect but most of my anxiety went away as I walked through the doors and was greeted by a sweet women named Sandra. She ran the day care and she asked me about my background and why I came to Buenos Aires. After our short conversation, she told me which room needed the most help and that's where I went. For the next four weeks I helped three other teachers take care of the most adorable babies ever in "sala verde" (the name of our room). Most of the babies were only a little over a year and one girl named Ashelen couldn't walk yet. Initially I was frighted at the idea but then I started to get the hang of things and had a great experience.
You might think that working with such young kids didn't provide me with much language practice material, but that is not at all true! The teachers were great to talk to and get to know! While I used mostly commands, short phrases, and cute Spanish songs when speaking to the kids, I used what I learned in the classroom when speaking with the teachers. I am a person that grows very attached to an environment after a while, and I have to say that after only four weeks here I was extremely sad to leave the kids as well as the teachers. On my last day volunteering they gave me a little goodbye gift, we exchanged our 'faces' (?tienes face? –do you have a facebook- is what they say ) and I invited them all to visit me in the United States.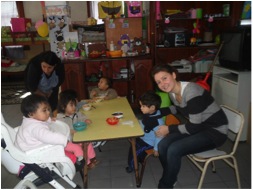 On my last day I walked home really glad and privileged that I got to meet the people I did here and everyone at the AMAUTA school.  I will not forget my time in Argentina because of how kind and patient everyone was that I met.
Hopefully this wont be an adios but a hasta luego. Buenos Aires see you soon but for now- chau!
Ania
Experience Guatemalan culture while improving your Spanish skills!
Sign Up
Learn More