---
Thailand Made a 'Belieber' Out of Me
---
2 minutes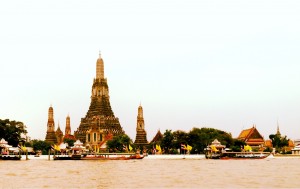 I knew Thailand was the land of smiles, elephants, and cheap clothes. What I didn't know was that my boss would hug me upon introduction, carry my luggage through the rain and take me for a pedicure. A baby elephant wrapped his trunk around my waist and lifted me six feet in the air while another played the harmonica and slam-dunked basketballs. A pair of edgy typhoon pants priced for $50 in America sell for so cheap here I can rip them dancing on a riverboat-turned-nightclub without breaking my smile. I've been in Thailand for nearly two weeks now, and these stories come from the past three days. I'll be here for six months.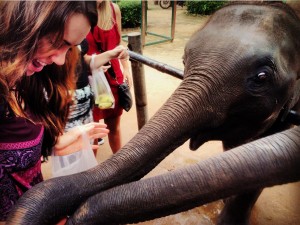 I decided to do the Teach English in Thailand program despite having little to no experience with either Thailand or teaching. An excellent combination, my mother pointed out. After a summer of recommendation letters, waiting on diplomas and checking flight prices every 12 hours, my best friend and I were placed in Suphan Buri — an hour and a half north of Thailand's capitol, Bangkok, and west of the ancient kingdom of Ayutthaya. Our city's pronunciation eluded us for months, but we've recently confirmed that Suphan rhymes with "coupon" and Buri rhymes with "curry."
I'm not saying I speak Thai, but I'm basically fluent because I can count to ten and ask people their name. It's amazing how those two things can create American-Thai conga lines at a bar within minutes.
Besides these basic language skills, the start of my Teach English Abroad program provided me with a panoply of new friendships. Jet lag and fatigue never made anyone happy, save for the teachers in this program who can't stop giggling as we drift down rivers on bamboo rafts, tour golden palaces and inhale late-night pad thai. Although we had to split up across the country for our teaching placements, I now have friends in Bangkok, Phuket, Chiang Mai and Kanchanaburi. We established a doors-open policy for weekend traveling.
As I settled into my studio apartment in Suphan, I found a letter in my desk drawer from the Teach in Thailand participant here before me. She left for me maps of Thailand; brochures of hostels, tours and activities that did right by her; and a string-tied stack of her students' poetry from last semester. I looked as far as the first student's work — a love poem about Justin Bieber proposing over dinner, with hand-drawn pictures to match — when the laughter and tears came all at once. I've never been so excited to meet a group of kids in my life.
It's been 14 days since I left home for Thailand. We think we know a place, but we have no idea.