---
Putting 'Yes' to the Test in Thailand
---
3 minutes
I have a friend in America with a knack for having the epiphanies of an eight-year-old. "Life is about experiences," she told me one night in early summer. Our post-graduate lives were the topic on the table, along with her third glass of wine. But I was on my third, too, so she sounded like a genius.
Life is about experiences. Holy cow. Cheers to that.
I've since adopted a word to compete with the frequency that us Californians use the word "like" - this word is "yes." It has served me well in Thailand, where I'm an English Teacher.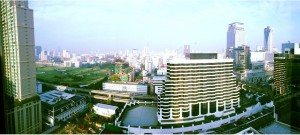 The Siam District of Bangkok, as seen from 26 floors up.
Our first Friday night in Bangkok, a Thai friend of a friend reached out and invited us to join her at the Chinese Vegetarian Festival. We had never met this woman, were not vegetarian, and did not own the white clothes required by the festival's dress code. We said yes.
Lantern-lit streets teemed with teenagers eating ice cream out of baby coconuts, vendors serving up savory tofu and monks in truck beds slinging holy water from palm fronds. Our party included myself and my friend, Franki; our new favorite person in the country, June; and her six German classmates from the university.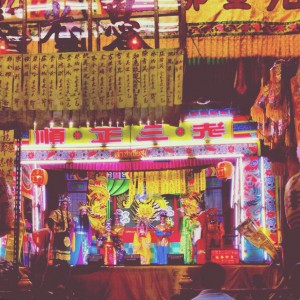 Costumed actors perform a traditional Chinese play off of Yaowarat Road during the vegetarian festival.
We had sidestepped into an alley to find ourselves under the roof of a traditional Chinese play - "very rare," an audience member told us - when June invited us to pray with her in the Buddhist temple next door. I'm Lutheran, Franki's Italian, and neither of us could properly wai our bellboy. But a clean slate's good for painting, and our answer was yes. She coached our kneeling positions during prayer, guided us through the offering of incense sticks to different statues, and translated our fortunes.
So I'm in good spirits because apparently my destiny includes lots of money and a dragon. Looking back, this high may have been necessary to agree to the next experience thrown our way - taking a tuk-tuk across town to watch one of our new German friends DJ. And by a tuk-tuk, I mean one tuk-tuk. We're talkin' nine people crammed into a motorcycle taxi  - it was easily the wildest ride we've had.
It's hard to say what made us sweat more - huddling between six-foot Europeans, laughing our stomachs into knots, or the Bangkok heat. But we made it, unscathed and glistening, to a dark, dirty alley with nothing but closed shops and a pack of stray dogs. We poked our heads around the corner to find a glass-walled art gallery, bright as a beacon, filled with young, chattering ex-pats and thudding bass. Bangkok's magical like that.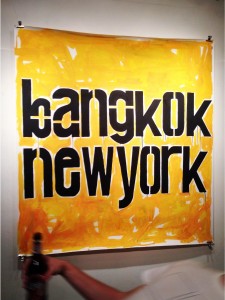 Urban paintings hang from walls at Speedy Grandma art gallery in Bangkok.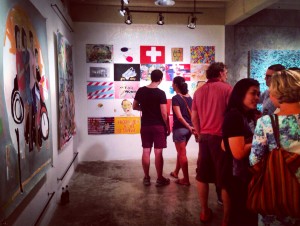 Gallery-goers peruse artwork.
We schmoozed with American documentary photographers, Canadian travel writers, and a British artist as obsessed with cats as Franki is. We discussed brush strokes with strangers over Singhas in the gallery and danced to house music in a large foyer filled with as many cigarettes as people. We experienced a side of Bangkok tourists rarely get to see - off the beaten path and a little more authentic. Our night eventually came to an end, despite that end being the first thing we hadn't said yes to.
Yes - that word has gained us some dear friends and exceptional memories. Life is about experiences, as naive or as brilliant as it sounds. When you encounter something or someone of potential, it's your decision to stop it in its tracks or see where it takes you.
Remember my friend with the wine? She suggested I travel.