---
Schooled By My Own Students
---
5 minutes


Kanchanapisek Wittayalai is a Thai public school just outside the city of Suphan Buri. A rather new school, KPSP dates back only 20 years and has large, open areas.
I'm mid-lesson on tongue twisters, whippin' out all these linguistic anthropology drawings to teach my kids how to pronounce their Rs and Ls. I'm thinking to myself, "Wow, I'm really on it today!" when I notice Dennis the Menace running around in the back throwing baby powder at his homies.
I can't make it through one class with this fool, I swear. It's already so hot in Thailand it only takes a nudge for you to reach your boiling point.
So I put on my best Cersei Lannister-face and summon the boy. I look him up and down and gesture for him to stand up straight. "REPEAT AFTER ME," I say. "SALTY."
The kid looks at his friends and has no idea what I'm talking about. So I reiterate, pointing to my mouth as I speak, when I notice he still has thick cakes of baby powder fresh in his palms. Has Thailand taught me nothing if not to take an opportunity when I see it?
So, I say again: "REPEAT AFTER ME. SAHL-TEE," and pat my face with my hands.
Hesitant at first, but having received common translation from his friends, the menace lifts his hands, slowly applies white finger strokes to his cheeks, and mumbles, "sawr-tee."
But practice makes perfect, and a few minutes later he's aggressively wiping powder all over himself, yelling, "Salty! Salty! Salty!"
Just like that, my Lannister melted away. I laughed - hard. It was a beautiful moment.
I had a hunch that my method was a tad unorthodox, so after class I asked one of the Thai teachers for advice on handling mischievous students. She smiled, rolled up a stack of papers and smacked it against her palm -- "Hit them!"
I've been an English Teacher in Thailand for more than a month, and I have learned more than I have taught - you will resent your students, you will adore your students, and the Thai teachers will always have your back.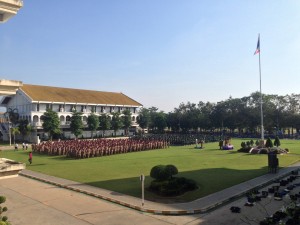 The students wear an array of uniforms, depending on the day of the week. These include P.E. track suits, white dress jackets, and everyday school uniforms. This photo shows the students in their scout uniforms.
I have 18 classes a week and teach more than 800 students. Some of their names seem to me appropriately Thai, such as Pim, Oom and Nok. Other nicknames make me smirk with recognition, such as Pie, Arm, and Golf. Other names they will change once they learn enough English, such as Pee Pee, Porn, and Beer.
I wish I could say I've met all my students and learned their names, but since I teach the equivalent of 7th and 12th grade, I've had to spend quite a bit of my time on "classroom management." But it has taught me creative ways of manipulating annoying situations - like the powdery menace - into priceless highlights.
I flourish more during my office hours, where I tutor English in small groups. My pupils range from shy 15-year-olds prepping for spelling bees to science teachers polishing their pronunciations of "Holocene," "Devonian" and "phloem" to English clubs filled with giggling girls, the discussion topic never straying far from Korea's hottest new boy band.
Sometimes I'm reminded that teenagers will be teenagers, no matter the country. Students run and slide in their socks down marble hallways, like a developing nation's version of Heelys. They have no idea what shade of makeup to wear. They eat ice cream for lunch. They doodle. They throw things.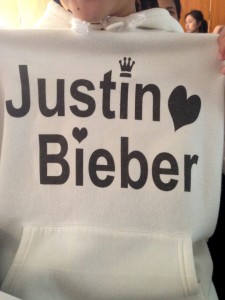 In the chilly winter months - when the weather dips to an insufferable 70 degrees - students are allowed to wear warm clothes over their uniforms.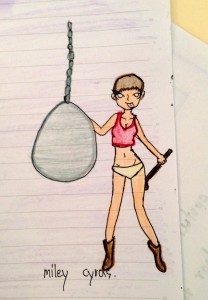 One of my students colored this picture for me. I have no idea why.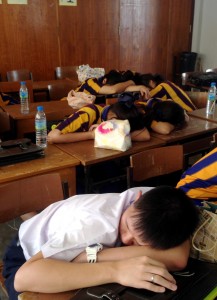 A typical post-lunch classroom of seniors. I've learned to prefer this over a loud room.
But other times, I see the stark differences of Thai culture incorporated into the education system. When I'm sitting at my office desk, students will huddle around me on the floor - they believe the spirits on their head should never be higher than mine, out of respect. When I travel down the halls, students splayed out on the ground will tuck their legs in as I walk by - they consider the soles of their feet the lowest part of the body and never point them towards me, out of respect. At the start of each class, my students stand up and say in unison, "Good morning, teacher;" at the end, "Thank you, teacher;" and wai (a slight bow) me in a single-file line in and out of the door, out of respect.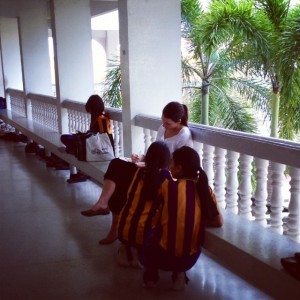 During my office hours, I teach my students in a more personal setting. They're really good at sitting on the floor for extended periods of time.
This attitude reigns, despite the occasional class clown and his pockets full of powder.
Not only do I receive such practiced etiquette from my students, the other teachers treat me like a prized prodigy. It didn't matter that I was 23 years old and two weeks into the job, the school had me grading students on government-issued tests, traveling to other schools to judge essay competitions, attending eight-course dinners to celebrate new administrators, and receiving bouquets of flowers on stage. The Thais at my school consider me an expert and a beloved guest. I doubt a rookie teacher in my hometown would be granted that much trust and esteem, especially right off a plane.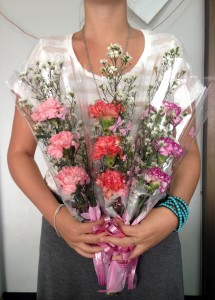 The school gave us bouquets of flowers as we introduced ourselves to the students during morning ceremonies.
It isn't often in a job - especially your first out of college - to feel that you're getting more than you're giving. But this is the case in the Teach English in Thailand program. I took a job as a teacher, and the school pays me, houses me, and always seems to be feeding me. I agreed to coach a student for her university interview, and she hands me a bag of handcrafted gifts from Chiang Mai. I taught a physics teacher the word "papaya," and the next day she brings me one. I ask my classes what they are thankful for on Thanksgiving, and they say they are thankful for me.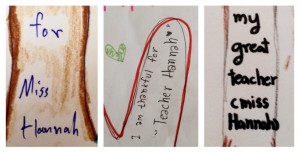 As a holiday craft, my students created the ever-famous American "hand-turkey" and listed what they were thankful for. Reading them made me giddier than the schoolgirls turning them in.
As much as my job intends to give, I feel I receive much more.
So if getting the everyday perks of Teaching English in Thailand means you occasionally gotta go Lannister on some kids, I would still choose it again faster than you can say, "salty."