---
The Best Breakfast in Thailand
---
3 minutes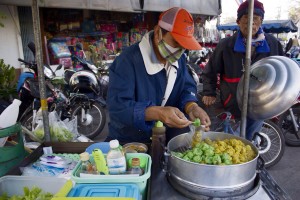 The best breakfast here is actually not breakfast at all. There are no places to go for breakfast in Chiang Kham that would have what you would call "breakfast food." So what you have to do is adapt and embrace the fact that some mornings you might just have some bright green dumplings for breakfast!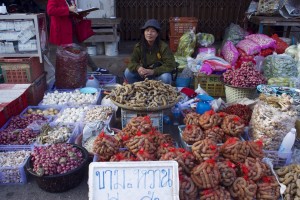 I occasionally have a strong yearning for a good "American breakfast." But I am in Thailand and every morning is an adventure...especially when it comes to food. So without any more delay, here is a look into my favorite place to go for breakfast, and in my opinion the best place for breakfast in Thailand: The morning market.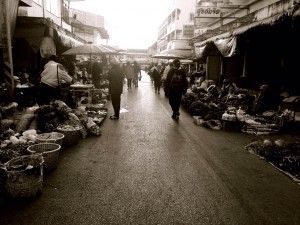 Chiang Kham morning market starts bright and early around 5:00 or 5:30 a.m. I don't go this early! I try to leave around 6:50 a.m. from my apartment to bicycle there and then to school by 7:30 a.m. Skipping the morning market usually means skipping breakfast unless I bring a banana or piece of toast with me. And more than ever in my life now, I feel that breakfast is the most important meal of the day, especially when that day consists of teaching 150 kids!
So what are your options for breakfast from the morning market?
If you are looking for something like oatmeal then "Joke" is for you! A thick rice porridge-type dish filled with pork, ginger, herbs and spices. Halfway into filling the bag, the lady will stop and crack a fresh egg into the joke and then continue filling up the bag. The egg cooks in the hot porridge so when you get to your destination and pour it into the bowl you have a bright orange egg yolk to break and it makes it that much better.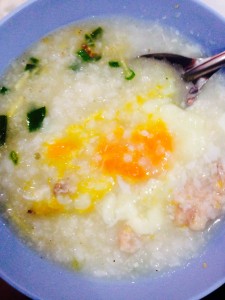 Feeling something a little savory and exciting for breakfast? Then why not some dumplings. They are not your boring old dumplings like at home! Here they are bright yellow and green, come with a helping of dried ginger sprinkled on top and a nice addition of a soy sauce. Not exactly your typical breakfast and not something to have every day. But hey, why not wake up some mornings and treat yourself to some dumplings!!??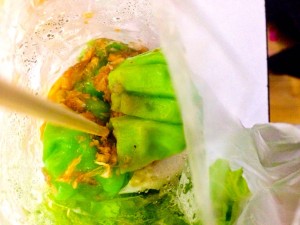 Having a morning where you are missing pancakes? I have the food for you! They are almost like pancakes! Tiny, tiny, tiny pancakes! Made with coconut milk, rice and coconut and the options of sesame, ginger or corn, these are the perfect little bite-size treats to allow yourself every so often when you get that pancake craving! For some reason Thailand is also big on waffles, so there is always the option for a slightly cold waffle that can satisfy a breakfast craving should you find yourself having one.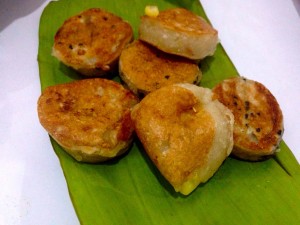 If you are looking for salad then look no further than the salad lady! I have come to the conclusion that it is acceptable to eat salad here any time of the day, so naturally this has turned into a breakfast item several days a week. The salad lady can be found at the morning and evening markets and is always smiling and so kind! I love her salads to go and all they need from me is a pinch of salt and a little olive oil and they are ready to go!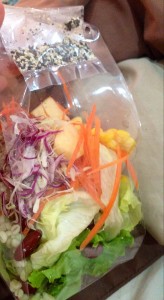 Finally, in Chiang Kham we have the juice lady. Every morning she is at the market with a real juice machine. Coming from America where I used to work in a store that sold fresh juices for $6 a pop I was surprised to find here that a carrot, apple, beet, ginger and pineapple juice will only set you back $.90!!!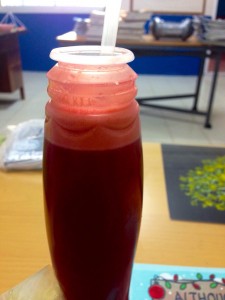 There is nothing I love more than waking up each morning and heading to the morning market. You can practice your Thai speaking skills there. Everyone is friendly and smiley no matter what and you can try something new every day! I love buying my fruits and vegetables at the market too, as they are always fresh and I never spend more than $5 on things that will get me through a few days.