---
Pre-Departure Tips for Living Abroad
---
7 minutes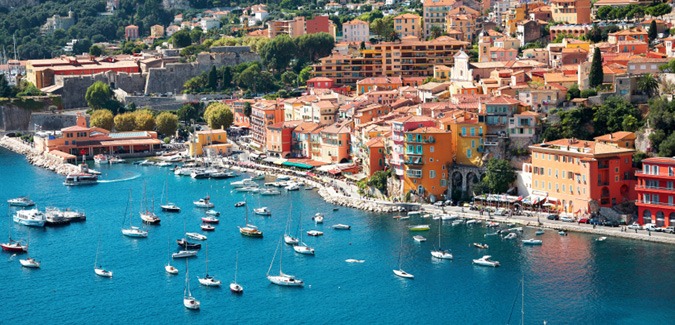 Ciao!
I arrived in Italy two weeks ago and have been having the time of my life so far. After graduating from college in December, I made the decision to travel to abroad and I'm so glad I did. I spent weeks researching and planning prior to my trip, and compiled this quick summary of my findings and suggestions. Here are several useful pre-departure tips and items I brought on my trip, as well as a few I wish I had.
International Packing Basics
Luggage
This one seems obvious, but make sure you have a suitable suitcase (or two) that will be appropriate for your trip. I brought a large checked bag, a small carry-on bag, a backpack and a small purse. The small bag and backpack have been perfect for shorter trips, and the purse is great for day trips and nights out. Make sure to check with your airline to see what its size requirements are for checked and carry-on bags, as well as potential fees.
Clothes
Try to pack as light as you can, but bring the essentials appropriate for your season. For my February-through-April trip, I brought one heavy jacket, a few pairs of jeans, a couple casual tops, one dressy outfit, comfy pajamas and a few accessories, including scarves and jewelry. As for shoes, I'd recommend a pair of boots, a pair of sneakers, a pair of dressy shoes and slippers for lounging around at home. If you won't have access to laundry facilities abroad, make sure to bring extra clothes.
Toiletries
Make sure to bring all the basics: toothbrush, toothpaste, face wash, soap, shampoo, conditioner, makeup etc. If you are particular about your products, bring extras - I haven't been able to find many of my favorite American brands here in Italy, and it's very expensive to ship them from home. If you are less picky about products, pack light and buy replacements in your host country. One item I would recommend bringing is a nail kit and/or polish. It can be hard to find nail salons abroad and they can be expensive.
Electronics and International Travel
Cell Phone
There are a few options for using a cell phone abroad, which all seem equally confusing at first, but make sense once you finally arrive. These options may vary from country to country, but here in Italy and in many other countries, there are three main options:
International Plan with your current phone and provider. Call your provider to find out your options - many times you can get an international plan for a reasonable rate.
SIM Card for your current phone. This is also a good option, but you need to get your current phone unlocked to be able to use the foreign SIM card. First, call your provider to find out if you are eligible for an unlock. Then, buy a SIM card for your phone online or in your host country. One website that you can use to order a SIM card is www.ekit.com.
Prepaid Phone with SIM Card. This is a good option if you can't get your current phone unlocked. You can purchase a small phone for a fee and buy a foreign SIM card to go with it. Again, you can purchase these online or once you arrive to your host country.
Laptop
I brought my laptop and it has come in very handy here (how else would I write this blog post?). However, if your host family or school has an accessible computer or your laptop is too bulky to lug around, you may want to leave it at home.
Backing-Up
I highly recommend backing up your phone and computer before you leave. I wish I had backed up my computer beforehand so I could delete files to free up space. Also, once I arrived in Italy, my phone quickly ran out of photo storage. I recently backed up all of my photos to www.dropbox.com, which offers a cloud-based service for free! Losing your phone or laptop in a foreign country is bad enough - you don't want to lose all your contacts, photos etc. too.
Adapter/Converter
An adapter and converter for electrical appliances is a must-have when traveling abroad. Adapters merely allow you to plug your U.S. appliance into a foreign electrical wall socket, while converters actually change the electrical outlet voltage from one level to another. Converters are necessary for single-voltage appliances. Check beforehand to see what type of electrical outlet your host country uses and what type of device you need for your appliances. Be prepared, however, to encounter electrical problems even when using these devices. I learned the hard way that cheap U.S. hair straighteners are NOT Europe-friendly. Sidenote: Apple iPhone and MacBook chargers are dual voltage - meaning all you need in order to use them abroad is an adapter.
Smartphone Apps
To save money on cellular data, or if you're like me and will be turning off data abroad, download useful apps on your phone prior to leaving. Some applications that have come in handy for me include an offline map of Italy, an offline Euro-to-Dollar converter, an offline reading app such as Nook, an offline Italian/English dictionary and a few communication apps like Viber, Whatsapp and Skype for use in Wi-Fi areas.
Planning Your Budget for an International Trip
Budgeting beforehand is essential in order to make sure you are able to do everything you want to do in the limited time you have. After I arrived to Italy and started spending all my pocket money on gelato, I soon realized I had to be extremely conscious of my spending if I wanted to do all the things I had planned. Try to research before you leave to find out how much money you'll need per week in terms of:
Transportation - Bus prices vary, and in my experience, trains to cities such as Rome and Venice can cost anywhere from 50-100 euros round-trip.
Hotels - Nightly rates are great to split with two or three friends when traveling on weekends. So far, my share of the hotel room has ranged from 25-40 euros per night.
Food - Find out beforehand how many meals your host family or school will provide and how much you will be eating out. After arriving in Italy I quickly became a cappuccino addict, which unfortunately was reflected in my bank account.
Other Expenses - Set aside some money for shopping, sightseeing and social events.
Gifts for Your Host Family
This is optional, but I think it is a nice gesture to bring something to represent your hometown or state. I brought my host family chocolates, a coffee table book of California and a Cars toy for my host brother. Other ideas are wine (if they drink alcohol), signature foods from home (e.g. maple syrup, toffee), souvenirs (e.g. mugs, picture frames) or decorative objects for their home.
Teaching Materials
As recommended by InterExchange, I brought several teaching materials to Italy, which have been extremely useful during home lessons. I brought a book of English grammar, a picture dictionary and a book of educational games. If you have time, try to pick a few up before you leave.
Other Suggestions for Living Abroad
Start learning the language early. If I could go back in time, I would have started learning Italian months before my trip so I could communicate easier in my first several days. However, you will quickly pick up a foreign language by listening to it 24/7. Now after my second week, I am able to get around and communicate without any problems, but a head start would have definitely been nice.
Get in touch. Contact your host family prior to your visit and develop a relationship. I kept in touch with my host family via Skype and email, which made for an easy transition and transport from the airport.
Notify your bank of your upcoming trip. Sometimes, banks will see foreign charges and shut down your credit card. To avoid that from happening, call your bank and notify them of your travel itinerary. I use Wells Fargo, and was able to create a travel itinerary with them using a completely automated service.
Make sure that your credit/debit card will be functional abroad. Some banks have small service charges for credit/debit card usage or ATM withdrawals abroad, so be aware. If you can't use your cards abroad, make sure you bring enough cash on hand or make sure there is an ATM nearby.
Bring cash! Even if your credit/debit card works abroad, bring some spending money in the currency of the country you'll be living in. This will come in handy when you first arrive, and some smaller stores don't take credit or debit cards.
Buy a travel book. I bought a small Italy travel book from Lonely Planet that has been extremely useful so far on my trip. Look for one with information about your country as well as a dictionary and list of phrases. If your electronics die or you can't find Wi-Fi, a book is always a safe backup.
Register your travel itinerary with the U.S. Department of State. Enrolling in the Smart Traveler Enrollment Program (STEP) is a way for embassy and consulate employees to find you in case of a disaster.
Bring photocopies of important documents. Bring photocopies of your passport, immunization records and proof of insurance and keep them with you during travel.
That's all for now! Try to make a packing list of your own and check off each item as you pack. And don't forget your passport!
Buon Viaggio!
Christine
Christine is a Teach English in Italy School Teaching Assistant.