---
My Arrival in Italy
---
2 minutes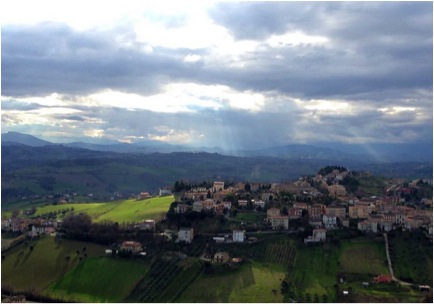 My arrival to Italy can be summed up in one word: awe. I arrived in Rome with no knowledge of the Italian language or culture. It finally started to hit me that I would be here for three months, living with a family I had never met before, in a country I had never been to. My first moment of panic began when I thought I didn't go through customs. Luckily, an English-speaking woman informed me that customs in Italy is actually quite simple compared to entering the United States, and that I only needed my passport stamped. Finally it was time to find my bus, and this proved difficult since I could not get specific directions in English of how far the bus stop was. Eventually I boarded the bus and headed to Fermo. Five hours later, my host family greeted me. This is when the second moment of panic hit me; I realized my host mother does not speak English. After a few days I realized she actually knows more English than she was willing to admit. You may find that many people are shy to speak your native language for fear of embarrassing themselves with a mistake.
After taking a day to unpack and explore the town, my panic disappeared and was replaced with amazement. I highly suggest taking a day to explore your town with a paper map and allow yourself to get lost. While trying to find the town center I no doubt took the most difficult and unnecessary path to get there, but I got to explore all alleys, parks and never-ending views. Being able to do this on my own made me realize how the rest of my trip would go. It is actually nice to be by myself and take in my surroundings without having my face in my iPhone waiting for the next direction from Google Maps. Of course, I also suggest stopping for a gelato or two along the way!
I could not believe I was so lucky to be living here. This feeling only grew when I met the children I would be teaching in Italy. Preschoolers learning English is not only adorable but inspiring. Choosing to do this program I was already open to the ideas of a different language and culture, but actually experiencing it has made me want to further my knowledge and experiences. I suggest traveling as often and as soon as you can. I took a few weeks before making my first trip to Rome, and have been traveling every weekend since. Three months may seem like a long time at first, but it goes by so quickly and you won't want to regret not having the time to visit every place you want to see.