---
Teaching English With a Host Family
---
2 minutes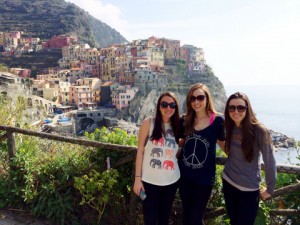 Through my Teach English in Italy School Teaching Assistant program, I've had the opportunity of teaching English both in a host family setting and in a local school. Both have taught me important lessons about what types of activities engage children and inspire learning.
My experience living with my host family, two parents with a six-year-old son, has been incredible. Never having traveled abroad on my own before, I had no idea what to expect coming to an entirely new home. Luckily for me, my host family made me extremely comfortable right away. They have included me in their daily activities, showed me around the city, introduced me to friends and family and even taken me to a local volleyball game. For the short time I've been here, they have made me feel like part of the family.
My host parents are intermediate English speakers, while their son is just beginning but learning very quickly. I teach their son English for a couple hours each day after he gets home from school. His parents and I agreed that the best way for him to learn and enjoy the language was to introduce English words in fun way, such as playing an educational card or sports game. That way, I can essentially sneak in English without adding too much stress to his already busy school day.
One game that my host brother enjoyed was a basketball game using English words. He has a small basketball hoop in his room that we play with, and we selected several objects words from around the room (e.g. bed, window, floor, dresser, closet, door, curtain) and wrote them on a piece of paper with their Italian translations. We placed this piece of paper in view during the game, and after one of us made a basket, that person would have to yell out an object word ("Window!") and the other person would have to run and touch the object. We started out with five or six words and added to the list we went along. As simple as the game was, my host brother was quickly comprehending and speaking basic words in English.
Other ideas for activities include scavenger hunts, memory games and word searches. Another fun game to play at the end of the day is Simon Says. When my host brother is "Simon," he gets practice saying English phrases aloud such as "Touch your head!" or "Clap three times!" Creativity is key in coming up with new games for English learning. With these tools, kids can learn English in a fun and engaging way without even realizing it.