---
Order the Fish in the Galapagos!
---
2 minutes
When in the Galapagos Islands, I recommend the fish, only the fish and any fish at all. Here are some of the best restaurants around San Cristobal and what to order while you're there. Also be prepared to eat a lot of arroz and plantains.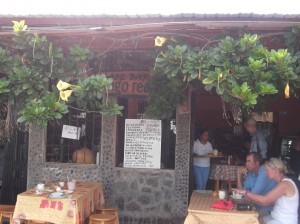 Tonga Reef Cafe is on the main street, right on the water. It serves excellent batidos frutillas and great breakfasts.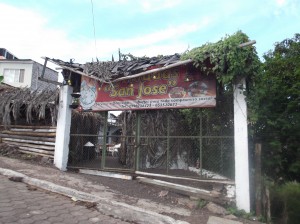 San Jose may not look like much from the outside, but the fish is so fresh, marinated in fine herbs and one of the absolute best meals I've ever had in my life.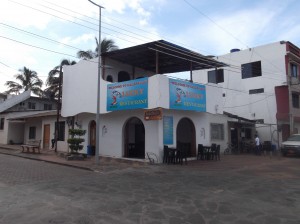 Lucky's is perfect for almuerzo. Their sopa is excellent, the pescado y arroz can be a little bland, but for three dollars, it's the perfect place to stop for a snorkeling break.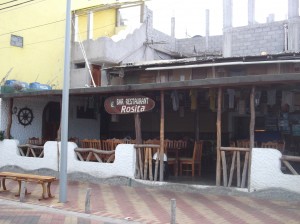 Bar Rosita is at a central place in Puerto Baquerizo Moreno (the main town in San Cristobal), right across from Lucky's. The place is more expensive than you need to pay, but it's a good meeting place. Also, the house salsa is very spicy but great with the arroz.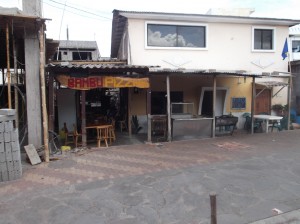 Bambu is a great place for a late night dinner, but they sell out of fish very quickly. They have a banana bread stuffed with queso that is amazing. It's right near the bank.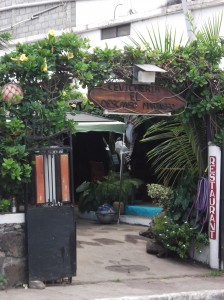 Now we come to one of the capital places for dinner in Puerto Baquerizo Moreno, where they serve the conchalagua con ajillo. This is not to be missed. It is a little more expensive, but if you have a small appetite it is big enough to share. I was told that the conchalagua was a small shellfish that could only be collected once a month under the full moon. Extremely delicious.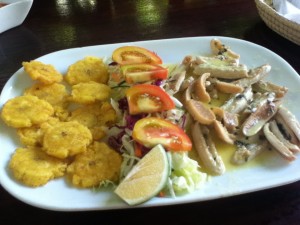 Dip the plantains in the ajillo sauce.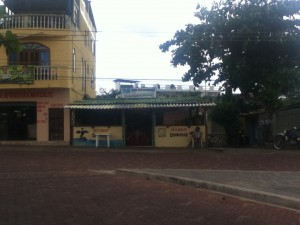 The pescado ceviche is an excellent dish for any mood and is best eaten over popcorn. I never knew the name of the small restaurant, but it is located across from the giant swordfish, pictured below.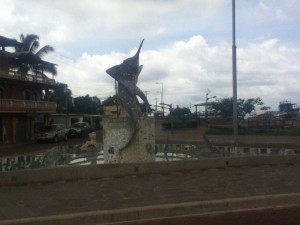 This statue is a beautiful tribute to the goals of conservation of the Galapagos.