---
Teaching English in Class
---
2 minutes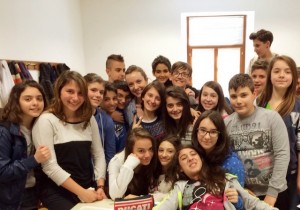 My English class in Italy
As a School Teaching Assistant in Italy, I had the opportunity to stay with a host family and teach at a local school. Although I had tutored before, it was an exciting new experience to teach a class in a foreign country. I learned so much during my time there and was able to meet so many amazing students. Here are a few ideas for future tutors traveling abroad:
Research ahead of time. The school may ask you to come up with your own lesson plans, so have a list of a few websites that offer English lesson plans, games or worksheets for the grade level you will teach. I made a free account on Education.com to access worksheets and activities for students.
Meet with your teacher before class. When you arrive to Italy, if you have time, meet with the teacher you will be working with before your first class to hear suggestions or topics to focus on.
Translate ahead of time. Write key words and phrases in a notebook beforehand and read from it during class. Write basic phrases like "Hi, class! How was your weekend?" or "Does everyone understand the question?" Having these listed was very helpful when I didn't know the Italian translation offhand. You can also jot down the Italian translations to the words you teach. For example, if you are doing an exercise or worksheet in English, write down all the Italian translations as well to help the students understand. The teacher is a great resource if you need to explain something to the class.
Start class with an English conversation. This gets them excited to speak English and show off their abilities. When I first arrived, the class asked me questions in English. The were extremely curious about Americans and had many questions for me, such as "What is your favorite movie?"; "What city are you from?"; or, the strangely popular "Do you like Eminem?" Also, if there's an event or holiday coming up, you can ask your students about how they celebrated it.
Worksheets! If you have access to a printer and/or a copy machine at your school, prepare worksheets to hand out during class. After the English lesson, the students can complete the worksheet while you walk around answering questions. The worksheets were an easy and efficient way to follow up lessons and reinforce English skills.
Engage the class by having students raise their hands with the answer and come up to the chalkboard to write it. For example, one lesson we did in my class was on objects in a house. We wrote the Italian words for objects like bed, dresser, floor and ceiling, and had students come up to write the corresponding English word.
If you have extra time after your lesson, you can either assign homework for the students to work on or play a fun game like Simon Says in English.
Enjoy your time tutoring abroad!