---
Our Most Popular Working Abroad Programs!
---
3 minutes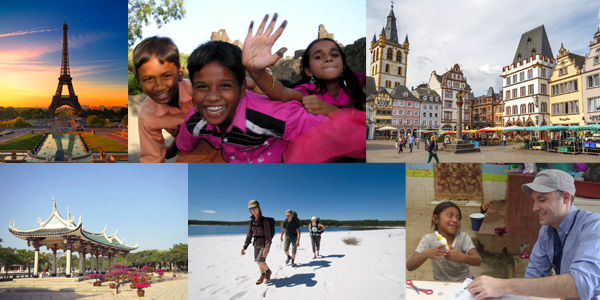 InterExchange offers exceptional work and volunteer programs that allow U.S. citizens to travel all over the world. Our programs are designed to address a variety of interests, but here are some of our most popular programs that might be right for you:
Teaching English abroad is a great way to share your language and culture while learning a new way of life. Our participants enjoy experiences in Europe, Asia and South America.
Spain – For participants who love teaching English and love Spain, our Conversation Coach in Spain program is the perfect combination. You'll live with a Spanish host family and provide 15 hours of English language tutoring per week. Schedules are flexible as arranged with your host family. During your time off, you can see the sites, enjoy local culture, make new friends and work on your español!
Vietnam – For participants looking for paid teaching placements in Asia, Vietnam is a perfect place to land! You can earn $1,000 per month of teaching, receive free accommodation and some meals and get flight reimbursement upon completion of your program! Participants love the close proximity to countries like Thailand, China and Cambodia.
There's no better way to understand the daily life of a new culture than by joining a family's home. Our program participants have enjoyed becoming a part of families, from Europe to Australia to New Zealand.
France – Parlez-vous français? How would you like to learn French while becoming part of a French host family, earning a salary and traveling around Europe in your free time? Our participants love experiencing the full culture and delicious cuisine of one of the world's most influential nations.
Netherlands – Becoming an au pair in the Netherlands is a great way to learn about a fascinating culture while making a lifelong connection with a local host family. Plus, it's also our most affordable program, with a program fee is just $40! While you're there, the rest of Europe is just a train ride away.
Our Volunteer program participants have had a great time making a difference while enjoying the benefits of service learning across Central and South America, Africa, India, Australia and New Zealand.
Costa Rica – One of the world's hubs for international volunteerism, Costa Rica offers fantastic opportunities to make an impact in areas such as HIV treatment and prevention, turtle conservation, and construction, including projects like building or repairing homes, adding classrooms to schools or structurally improving orphanages.
Ecuador – Our participants have raved about the opportunity to teach in schools in Quito, Cuenca and coastal communities. Other projects such as learning about organic techniques with local families at their coffee farms in the Loja province or about Amazon reforestation in the Napo province have given participants a fulfilling experience.
South Africa – For animal lovers, it doesn't get any better than volunteering with African wildlife. Volunteers can work big cats at the Coastal Lion Park or with elephants at the Garden Route Elephant Park. For those who want to work with children, volunteering at a school or child care center against the backdrop of beautiful Cape Town are equally appealing choices.
Our Work & Travel program is the perfect way to explore Australia or New Zealand while maintaining an independent lifestyle. Work as much or as little as is right for your goals and travel schedule.
Typical Work & Travel Abroad jobs include:
Hospitality jobs
Call center positions
Office assistants
Child care
Teaching
Retail
Manual Labor
We offer various programs for you to further your learning abroad in an immersive setting. Check out our Spanish Immersion in Latin America options, which offer an affordable way to learn or improve your Spanish with classes and a host family in Costa Rica, Guatemala or Peru.
Have questions about which program is right for you? Check out our work, travel, learn, teach and volunteer abroad programs for Americans, or email us at workabroad@interexchange.org.