---
A Smell in the Air in Thailand
---
3 minutes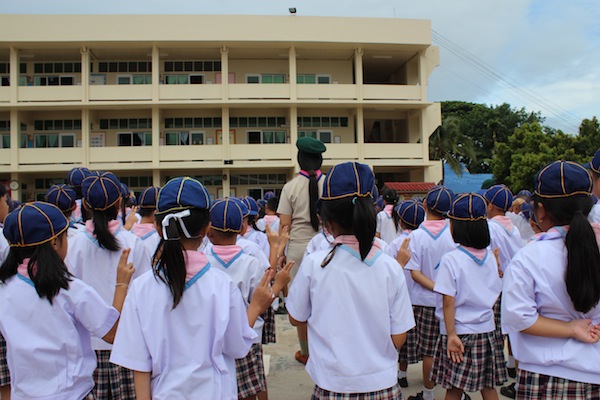 It's hot, so very hot. The smell of fish sauce and durians lingers in the humid air when I leave to bicycle to school in the mornings. It's a smell I have become accustomed to. Sometimes if you wake up early enough, you can catch the cockroaches scurrying away as the morning light appears. And every day you will sweat, not just a little bit, a lot. Just stepping outside to throw something away causes you to sweat.
Life in Thailand is not glamorous. You are in Southeast Asia. Squat toilets are everywhere. Strange bugs and smells are everywhere. People are always staring at you. It is likely that you will be out of your comfort zone 24/7. But it's ok.
Rainy season has begun so I get to ride my bicycle to school wearing some really fashionable ponchos and arrive looking like a mess. There are always adjustments to be made and compromises to make, but every day for me ends with a smile.
The past few months have been pretty interesting. There was quite a large earthquake in May. Then martial law and then a coup! If you had asked me if I would live in a country that had a coup during my life I would have said no, but lo and behold, here I am experiencing it. At first there was a lot of worry about what may or may not happen. Did we need to leave? Would it be safe? Turns out Thailand is now safer than it was before. Life has not changed for me at all.
I cannot believe I am entering the last three months of my year of teaching in Thailand. The thought of leaving my students and the life I have grown accustomed to these past nine months is too much to think about right now. So is the stress of figuring out what exactly comes next. For now I am enjoying the time I have here.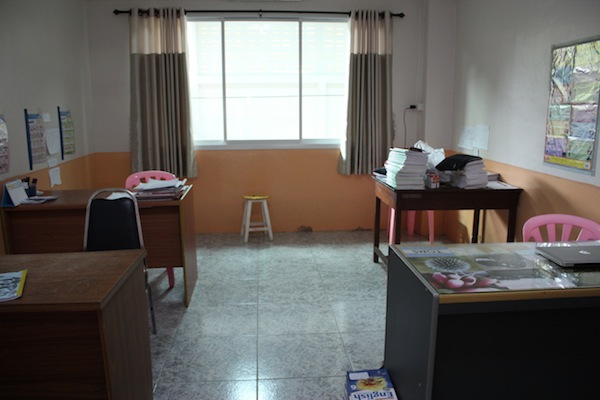 Our teachers' room
There are wonderful new teachers at my school from South Africa who make the days much more exciting and enjoyable. I have now gotten to a wonderful place with my students where classes go smoothly for the most part and I feel like I have hit a good rhythm as a teacher. I walk around with my camera at school a lot to take pictures of the students and my surroundings and all the crazy things that go on:
The Thai teachers who walk around in four-inch heels crushing cockroaches with ease as they stroll by.
The student who asked me how to spell TV!
And stumbling upon a group of 10 students in a huge pile of mud trying dig a hole for some unknown reason!
These are just a few examples of the things I see every day at my school.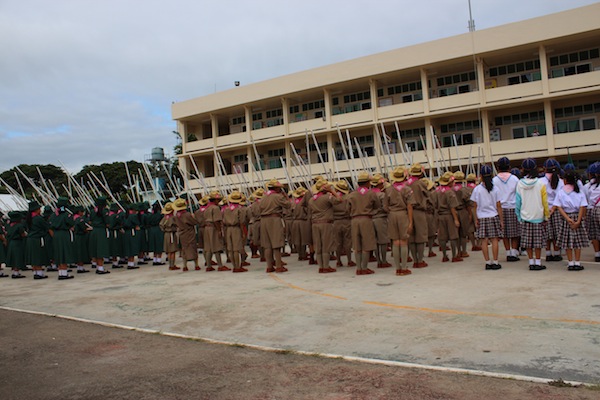 Last week was a busy week. We had National Scout day and because I work in the primary and secondary school I got to experience two different ceremonies for this special day. I always enjoy experiencing the different days and customs in Thailand that I never would have experienced at home. The students have so many different outfits for all of the special days and celebrations and they always find some way to involve the Western teachers in whatever is going on!
For now my focus has shifted to making midterms and getting excited for my upcoming four-day weekend. I always enjoy little breaks because it gives me just enough time to visit somewhere new in Northern Thailand! When I come back the schools will have midterms and then I am in the final stretch of my time teaching here! In my next blog I will have a video of the three different schools that make up Piyamit Wittaya and an example of what we do in the classroom!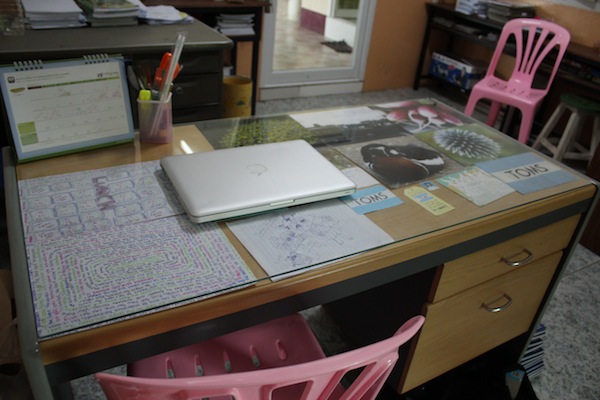 My desk