---
Assimilation: A Crash Course in Teaching English in Vietnam
---
3 minutes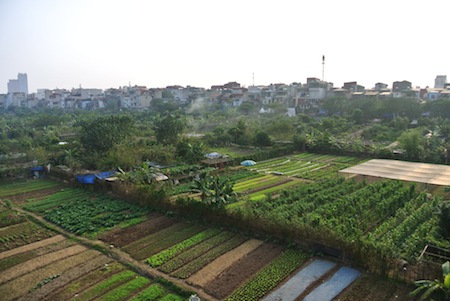 I moved to Hanoi at the end of October and, therefore, started teaching English in Vietnam about three months later than the newest batch of teachers. As a latecomer, you must process and adjust rapidly. It goes a little something like this:
Pay attention and take notes. When you travel for roughly 22 hours to arrive and LIVE in a country on the other side of the world – that's wildly different than your motherland - jet lag will be all consuming. I barely remember anything anyone said to me my first couple days of orientation. Acknowledge this fatigue, and possibly culture shock, and take notes about every detail even if it seems silly or too obvious at the time to write down. You'll need this documentation to recall conversations and what it is you do at your new job, but you'll also want this documentation later when you are settled into your new life, or returning to the motherland, and you want to recall how you felt adapting to an unfamiliar environment.
Connect with people. I have a policy: unless I am sick, I always say yes to an invitation when I am new to a place and have a desire to get out and meet people. This is also a great policy to employ for learning about restaurants, places to shop and just how to live life in your new city. Connecting with as many people as possible is also critical because you will share a bond with everyone you meet abroad that no one in your current life will ever understand.

Find a home. Don't be shy, ask colleagues if they know of rooms available or if they have real estate agent recommendations. There are also good online platforms to peruse when searching for available housing, roommates and really anything else. The dorm options are good for your first week or so but past that, you need to get out and live among the people.
Learn the language. If you decide not to take classes or private lessons to learn Vietnamese, learn at least enough to pronounce your students' and colleagues' names and buy what you need at the market. Vietnamese is a difficult language to learn and speak but it's a wonderful feeling when you understand what someone is saying, and your attempts to learn will be appreciated.

Get a motorbike…if you dare. Before you make a decision about whether you want to rent or own one, ride as a passenger and take Xe Ôm (motorbike taxis) to your destinations. This will help you get an idea of if you are up for being a driver or not. Your other travel options are bicycle, bus and taxi, which aren't expensive. I will give no advice on these options; it's a personal decision based on your comfort level and desire for freedom.
Set your intention. I'm all about going with the flow and taking advantage of opportunities as they arise, but I also have some goals for my life in Vietnam. One of my biggest fears is falling into a daily/weekly/monthly routine that becomes mundane and devoid of authentic experiences, and then waking up to realize that my time here has come to an end. So ask yourself: Where do I want to travel? Do I want to take classes? Meditate more often? Learn to cook Vietnamese food? The opportunities are endless.
Samantha is teaching English in Vietnam with InterExchange Working Abroad.