Do you:
love to plan things out?
hate to plan things out?
get excited but overwhelmed by the prospect of planning things out?
still don't know what you're doing for lunch?
Fear not, my friend. For whether you have it all down to the decimal, or wonder if it's gonna be pizza again, the secret and best way to plan and live (especially for a working holiday) is simple:
Make everything into a game.
"Pshhh," you say. "This is real life! I need a job, and a house, and food. I need to know where the cool spots are, and I want to make friends, and I need it all figured out."
Yeah, me too. But that's waaay too much. So answer me this, Captain Planner: Can you just roll up and slay the final boss, when you're a lowly peasant with no armor at level 1? The best you can do is level up to 2, then 3, until you're a knight in shining duds, ready to crush it.
So how do we turn this idea into real life? ALL HAIL THE LEVEL UP YOUR LIFE CHART. I know it's got the word "chart", but his will be fun, I promise.
Grab your planning pens, and let's go!
STEP ONE: PICK YOUR QUESTS
Before you go on your trip, pick five aspects of your life that you're gonna be at level 1 for. Narrow it down to five. This is critical. And it's gotta be things that you have to level up and are important to you (i.e. if you already have housing squared away, don't put it as a category.) My five were EXPLORE, HOUSE, JOB, MAKE FRIENDS, and STORYTELLING.
My chart has Storytelling and Explore (for passion and fun), but pick what matters to you. Want to check out the surfing scene? Love art and museums? Need to buy a car? You know you.
STEP TWO: CREATE YOUR TASKS
Here comes the bulk of the chart. Write out LEVEL 1 through LEVEL 10 on the left side. Fill in, starting at level 1, what tasks will get you to level 10.
This is my Level Up Life Chart for moving to Melbourne, Australia.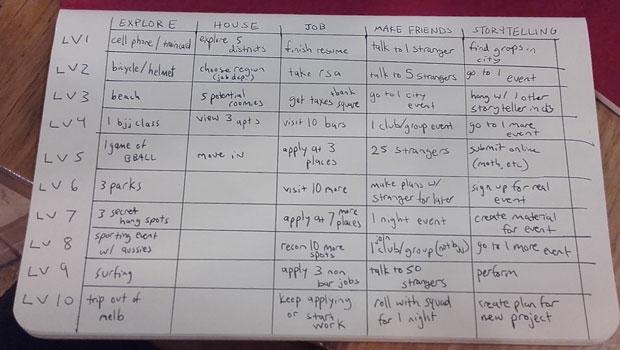 The trick is to start small. You're a lowly peasant, remember? So if you look at my EXPLORE LEVEL 1, I wasn't scuba diving in the Great Barrier Reef. I was buying a cell phone, and getting a train card. That took me all day. And I wasn't frustrated. You know why?
Because I got to LEVEL 2. And I couldn't have gotten the bicycle or helmet in LEVEL 2 without calling the guy and taking the train there. Try to think ahead, and make it so the difficulty of your tasks are spread evenly along your main quests. Basically, don't make LEVEL 3 freakishly hard for one quest, so you're stuck grinding there forever. Balance, my friend.
STEP THREE: HAVE FUN
This is the trip of a lifetime. Don't get upset. Don't get frustrated. You're traveling! You're doing amazing things! Have fun! The LEVEL UP YOUR LIFE CHART takes the drudgery of "getting things done" and turns it into something magical. Embrace the mindset, however silly or trivial it may seem, that you're the main hero in your game of life.
And lo, the tedium and stress of the million things you want or need to do becomes a joy, because you're doing it. You're leveling up. And you're better than you were yesterday.
As you start your journey, you may find you breeze through a quest, or end up jumping levels, or get stuck on one for a while. That's fine, too. My chart was a mess, and I'm still not done with it.
So one final thing remains: what happens when you hit all level 10's? Is it over? Should you move on? Add more levels?
Well, that is up to you, my friend. You're the hero now.
---
Taylor is a participant on the InterExchange Work & Travel Australia program.
Taylor
Taylor is a participant on InterExchange's Work & Travel Australia program.