---
Teaching in Thailand
---
2 minutes
Although some of the students can be rambunctious at times, it all comes with an innocence and interest in learning which is hard to find in American middle schools. Many of my students go out of their way to get extra help and beef up on their English skills as they prepare for college entrance exams. Tha Wang Pha secondary school is a typical country school nestled deep in the remote Nan province. The vast majority of students are extremely respectful and excited to have an American teacher, often stopping to say hello on the way to class.
I teach grades 8-11 which allows me to work with a very diverse age range. Many of my students were preparing for college entrance exams and asked for extra help with their professional English and advice on career options and life as a university student while others were working on developing basic conversational skills and a better cultural understanding of the English-speaking world. Teaching each grade has been an extremely diverse experience, and it's been a pleasure to watch my students improve and become more comfortable with having a foreign teacher.
The faculty of Tha Wang Pha School are very welcoming. One Saturday afternoon we visited a local temple to enjoy the hand painted murals, traditional instruments and other elements of the local Lai Thai culture. Locally referred to as a Suang, we learned that the Lai Thai four stringed loot is hand crafted from the wood of a Jackfruit tree. Built to last, this puppy has been through generations of wear, tear and good vibrations. The director of our school's daughter was incredibly patient with me as she showed us how to play this and other local instruments, which are brought out to celebrate festival days and other big events.
---
Phoenix is a participant in the InterExchange Teach English Thailand program.
Phoenix
Phoenix participated on InterExchange's Teach English Thailand program.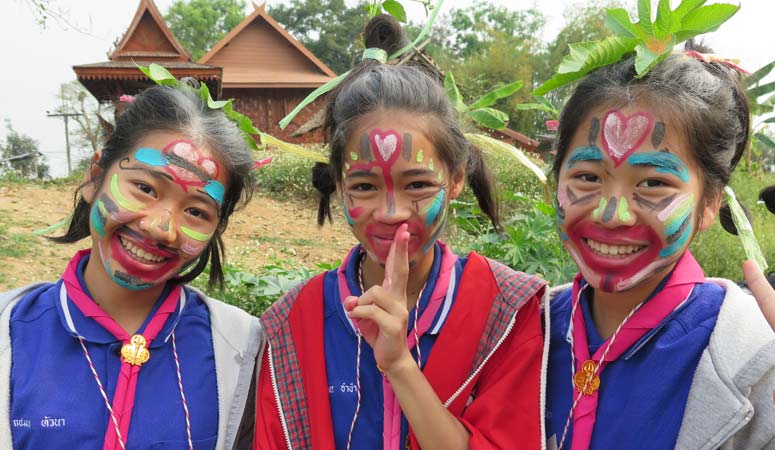 Boost your resume, earn a great salary, and immerse yourself in Thai culture!
Sign Up
Learn More