---
Guide to Washington, D.C., the Capital City
---
2 minutes
Image courtesy of InterExchange
Washington, D.C. is just one of many fun areas where InterExchange Work & Travel USA participants live and work. Located on the East Coast, the U.S. capital is just miles away from Ocean City, Maryland and Rehoboth Beach, Delaware, and a short bus trip from NYC!
Did you know?
Washington, D.C. is ranked on top lists for its population of young people, fun nightlife and fitness opportunities!
Food and drink are important to D.C. locals as evidenced by the abundant international cuisine and craft breweries located right downtown.
Transportation is quick and easy with the city's color-coded Metro subway and bus systems.
If history and culture is your thing, you'll find yourself with plenty to see at D.C.'s 79 museums and monuments!
2016 is a U.S. election year, which will draw lots of buzz and excitement in the nation's capital, especially around the White House!
Image courtesy of InterExchange
Fun stuff to do!
Summertime in Washington, D.C. means three things: music, food, and drink! A few of the upcoming events in and around the D.C. metro area include the National Capital BBQ Battle, D.C. Beer Week 2016, Brew at the Zoo, and Live Music Week!
Want to check out D.C.'s 2016 concert lineup? Head over to music venues RFK Stadium and Monumental Network for live shows!
Like sports? D.C. is the perfect place to catch a game or match of your favorite summer sport! Find tickets for Citi Open Tennis, D.C. United Soccer, Washington Wizards basketball, and Nationals baseball! If playing sports is more your speed, check out boat, kayak, and paddleboard rentals on the river, or the Go Ape Treetop Adventure Course!
What other cities are close by?
Washington, D.C. is an easy train or bus ride to:
Ocean City, Maryland
Rehoboth Beach, Bethany Beach, & Fenwick Island, Delaware
New York City, New York
Philadelphia, Pennsylvania
Irish resources in D.C.:
Student Housing Resources
This sounds great! How can I make this my summer?
Want more information about Washington, D.C.?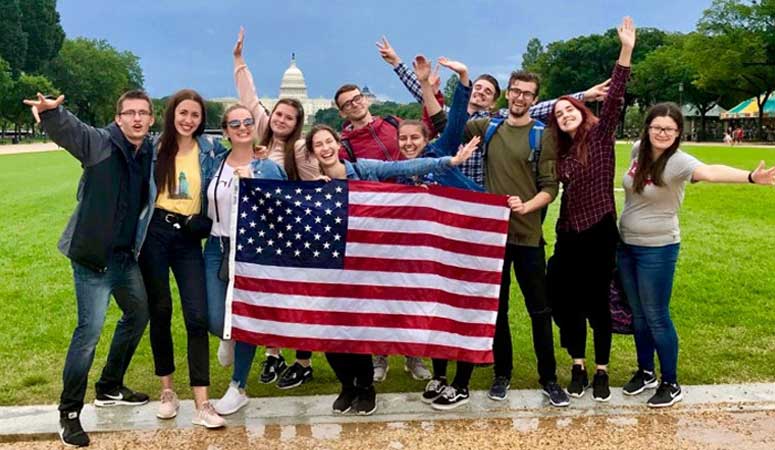 Experience American culture while working and exploring the USA
Sign Up
Learn More
Call Us