---
What Happens at InterExchange Arrival Orientations?
---
1 minute
Thousands of Work & Travel USA participants started their programs at InterExchange orientations in New York City and San Francisco this summer. These orientations provided students from all over the world a chance to meet InterExchange staff, make friends and see the sights of two major U.S. cities.
Orientation sessions provided incoming participants with important program related information, including SEVIS, taxes, and travel instructions on how to get to their job sites. InterExchange staff assisted all students with their Social Security applications and gave them custom cultural maps that highlight the best cultural activities that New York City and San Francisco have to offer.
InterExchange organized the following cultural events for participants traveling through New York City this summer:
In addition, students were offered discounted tickets to major NYC attractions: the Empire State Building, the Statue of Liberty and Madame Tussauds Museum in Times Square. The highlight of one of our orientation sessions was a visit from Deputy Assistant Secretary Robin Lerner. Ms. Lerner welcomed participants to the United States and discussed the importance of exchange programs and safety, and what participants wished to accomplish during their stay.
InterExchange staff also gave presentations for participants from Ireland at the Irish Immigration Pastoral Center in San Francisco and the Irish Consulate in New York City. Students received guidance on housing and employment resources, as well as cultural activity opportunities in both areas. In addition, the NYPD gave a fantastic presentation about being safe and having a fun summer in New York.
Thank you to everyone who attended InterExchange orientation sessions, it was great meeting you and we hope you enjoyed your stay in the United States!
Tanya Burovtseva
An international exchange alumna originally from Ukraine, Tanya started her career at InterExchange in 2011. Tanya is passionate about travel and cultural exchange and enjoys meeting J-1 exchange participants at InterExchange events.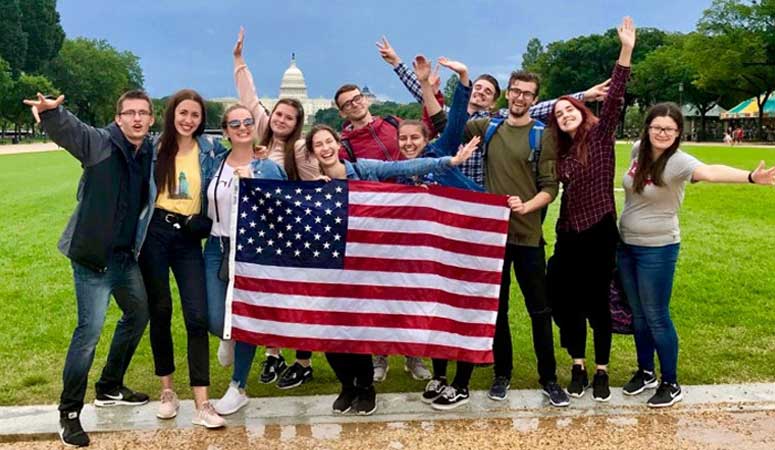 Experience American culture while working and exploring the USA
Sign Up
Learn More
Call Us