---
How InterExchange Can Help Fill Seasonal Staffing Needs
---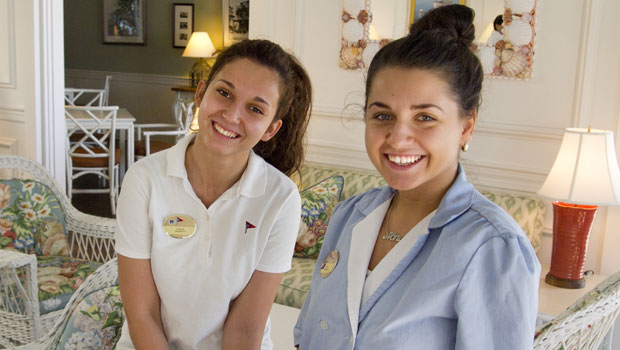 As a U.S. Department of State-designated J-1 Visa sponsor, InterExchange serves as a central contact point between qualified host employers who want to hire seasonal international staff and international students who are looking for an opportunity to work and travel in the U.S. during their official university breaks.
Exceptional Recruiting Services
InterExchange recruits and screens students, ensures all students have accident and sickness insurance, helps students apply for their Social Security cards and provides travel directions to their work site. Staffing needs can be met easily and well in advance of the beginning of your season. Our online system allows approved employers to review applicants and submit job offers directly to qualified students.
Compliance with Regulations
InterExchange is thoroughly knowledgeable of Exchange Visitor Program regulations. InterExchange can also provide assistance to facilitate the successful completion of exchange visitor programs with regards to federal, state and local laws pertaining to employment, including the Fair Labor Standards Act and SEVIS.
J-1 Visa Processing
InterExchange processes all J-1 Visa sponsorship paperwork and prepares job offers and contracts between the student and the employer.
Cost-Free Program
There is no cost to employers. Participating students pay their own expenses, including program and travel fees.
Personalized Service and Support
A dedicated Regional Manager will take the time to learn your specific staffing needs and will submit applications for you to review. Your Regional Manager is also available throughout the year to answer questions or assist with any problems that may arise. 24-hour emergency telephone support is available throughout the season.
Participant Assistance
InterExchange hosts cultural meetups at our New York City headquarters packed with activities that acquaint participants with U.S. culture and history, as well as information on taxes, labor laws, and resources for living and working in the U.S. Participants are also given a 24-hour emergency contact number and information about applying for Social Security numbers.
Staff Commitment to Employers
Applicants sign an employment agreement agreeing to work through their full commitment and meet all job requirements. Most come to the U.S. to improve their English and learn more about U.S. culture by working alongside American staff and having constant contact with U.S. citizens. The money students earn is an additional incentive to work through an entire season, as it is a means to defray their travel and living expenses while visiting the U.S.
Comprehensive Screening & Orientation Process
Applicants are interviewed and tested for English proficiency. Orientation programs are held in the participant's home country to ensure applicants have realistic working and living expectations.
Full Season Coverage
International university students have longer breaks than U.S. students, allowing participants to work throughout the busy season. By staggering staff arrival dates, employers can ensure full-season coverage.
A Diverse Workplace
International visitors on J-1 Visas arrive from more than 60 countries, adding an international flair to U.S. businesses. Students are here to learn about and experience U.S. culture, so they're eager to engage with you, your customers, and their American peers. International staff members are carefully screened and have strong English communication skills.
As a host employer, part of your role is to assist international participants in their compliance with the U.S. Department of State's Summer Work Travel program regulations. You'll make their experience more successful as well as ensure that you're able to host students through the program in future years. In accordance with our practices and the regulations of the program, please:
Do not allow participants to begin work at your business until InterExchange, the J-1 Visa sponsor, has fully vetted and approved your business and the positions for the students. This vetting process applies to all participants who may be taking on a second job at your business as well.
Notify sponsor immediately of any concerns regarding participants' health, safety, or welfare, including housing issues, no-shows, termination, quitting a job, etc.
Notify sponsor immediately when participants arrive at work sites to begin their programs.
Notify sponsor immediately when participants do not arrive at work sites to begin their programs.
Notify sponsor immediately if there are any changes or deviations in job placements during participants' programs.
Don't overhire.
Familiarize participants with the local community.
Ensure that participants have opportunities to meet Americans, both in the work environment and during their free time.
Ensure that participants have opportunities to engage in cultural activities.
Don't allow participants to work past the dates on their DS-2019 Forms.
Be prepared for visits, both scheduled and unscheduled, from U.S. Department of State officials or InterExchange during the season.
Treat all international participants with respect and act as a welcoming ambassador for the U.S.
Next: Program Options »