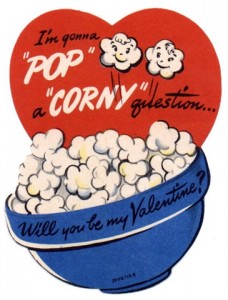 Holidays are a perfect way for your au pair and your family to share different cultural customs with each other. And Valentine's Day is always a fun excuse to be extra affectionate with each other. And eat chocolate!
Valentine's Day, or some variation of it, is celebrated all over the world. It all started with a priest in third century Rome who — as legend tells it — secretly married young couples after a decree was passed by Emperor Claudius II that all single men had to serve in his army and no single man could be married. Valentine was put to death for this and soon after sainted.
There is another version of the story that says Valentine was not a priest, but a prisoner who fell in love with his guard's daughter. Before he was executed, the love-stricken prisoner sent the very first valentine and signed it, "Your Valentine," which, of course, is what we still do today for our loved ones.
Whatever version of the story is true, Valentine — saint or not — has inspired the world to show those we care about how much they mean to us. And through your children and au pair, experiencing this fun holiday through different foods and crafts from around the world will be even more rewarding.
In most of Asia, it's the girl's job to treat her boyfriend for Valentine's Day! The girl will traditionally give chocolates and maybe a stuffed animal to her sweetie. But don't worry, the boyfriend gets his turn later in March for White Day.
Latin America also shares the majority of our Valentine's traditions. In Mexico, men and women exchange red flowers and gifts. In Brazil, Saint Anthony, the patron saint of match-making and marriage, is celebrated in January. Single women apparently perform fun rituals to find out who they should marry and couples exchange chocolates.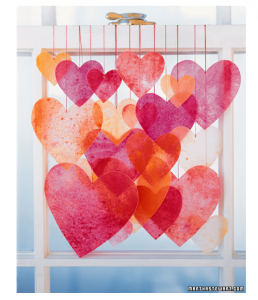 Valentine's Day Crafts for the Whole Family!
One of my favorite things about Valentine's Day when I was younger was the crafts I got to make for my parents and friends. I remember it giving me a sense of accomplishment, even though I was too young to actually go buy a gift. The Queen of Crafts (that's Martha Stewart, fyi) has a great rolodex of fun kids activities for the big day, some more ambitious than others. But, my absolute favorite one are her version of crayon art (see finished product left)!
This is the perfect craft for you or your au pair to do with your kids and the result can be displayed for weeks after the 14th! You can get all of the directions for the craft on Martha's website. 
Whatever you and your family does for Valentine's Day, make sure not to miss out on the incredible learning opportunity that having an international au pair offers. You may even learn something new too!
Sources:
http://www.forbes.com/2009/02/11/valentine-mexico-ghana-entrepreneurs-sales_0211_globe.html
http://www.marthastewart.com/274841/valentines-day-crafts-for-kids/@center/276967/valentines-day#/189832