Now that October is here, it's the perfect time to experience some favorite fall activities with your au pair. We love hearing from our host families and learning more about how you introduce American culture to your au pairs, so please share your ideas and suggestions below in a blog comment, too!
Here are some suggestions for fun and family-friendly fall activities for host families to try out this autumn.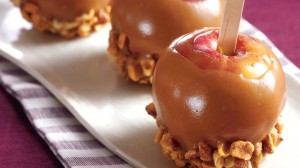 Peanut Butter Candy Apples, from Pillsbury[/caption]
Go apple or pumpkin picking: Get outside at a "pick-your-own"orchard or farm! Apple picking is one way to enjoy fall and make some yummy treats at home after all your hard work, like apple pie - an American classic! Pumpkin patches are also fun family activities, and you can help the kids carve a pumpkin when you're home. Many farms also have fun activities like hay rides, a corn maze, candy apples and more.
Visit a fall festival: Look for local festivals to show off your neighborhood and the local culture to your au pair. Carnivals, county fairs, food festivals or a farmers' market can be a fun way to get the kids outside and let your au pair learn more about the community.
Celebrate Halloween: Halloween is a popular holiday in the U.S., so celebrate with your au pair and kids by making your own Halloween decorations, baking some Halloween treats, or creating costumes for the kids and au pairs - you can even make it a group costume as a family!
Take a hike: Enjoy the beautiful fall weather and changing leaves with a hike or other outdoor adventure in a local park. Check out the Cultural Compass section of our website for more information on local Outdoor Recreation in your area.
Get ready for Thanksgiving: Teach your au pair about Thanksgiving, one of the most popular American traditions and a great example of U.S. culture. The kids can make Thanksgiving decorations and help teach their au pair about the holiday, too!
And check out the For Au Pairs blog for more fun suggestions for fall activities. What are you doing with your au pair this fall?