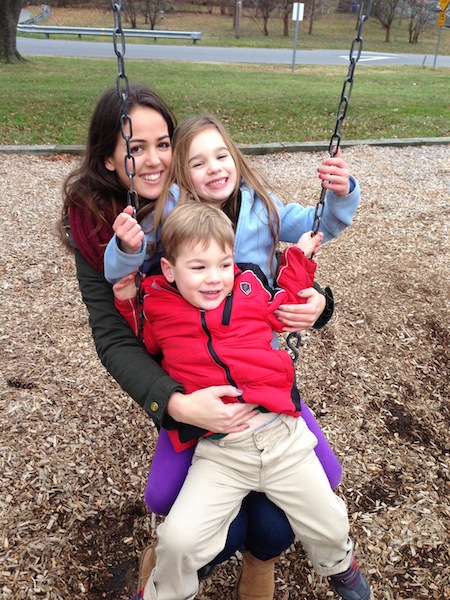 As host parents, it can be tempting to shower your au pair with gifts upon arrival! However, it's important to remember that she is not a guest in your home – she is a member of the family. While it's great to welcome your au pair with some special trinkets, as the year goes on, it will become much more meaningful to recognize the special contributions to your family and above-and-beyond effort that your au pair exerts. This will let your au pair know that you are paying attention to all of her hard work, as well as motivate her to keep doing a great job for your family!
Here, we offer a few suggestions for showing gratitude and rewarding a job well done.
If you see something good, say something good
As you know as a parent, caring for children is hard work, and can seem like a thankless job. When you see your au pair doing something really great, you might think to yourself, she's a lifesaver! But, don't expect that your au pair realizes that you've noticed.
Telling your au pair, "I noticed that you cut the kids' sandwiches into cute shapes. That was really awesome!" or "Thanks so much for offering to drive Emma to her party. You didn't have to do that, but we're glad you did." can mean a lot. It shows that you are noticing and appreciating the little things!
Remember to keep the praise genuine and specific. When you point out exactly what you are thanking her for, it is more effective and makes a greater impression than simply saying, "nice work."
Give the gift of experiences
Studies show that experiences are more meaningful and create more happiness than things. A gift card to a great restaurant, an ice skating rink or another activity that your au pair might enjoy with friends is a great way to say "thank you" to her, as well as help her to get involved in the community.
Personalize gifts!
Would your au pair rather receive a framed picture of her family, a gift card to Starbucks or an invitation to go rock climbing with your family? You'll know the answer to this as you get to know her better. A "thank you" gift that shows that you understand her personality and preferences will be very meaningful, and help to make her feel like part of the family.
If you're giving a gift as the au pair returns home, think of what can fit in a suitcase and be transported easily. Bonus points for giving her something unique to the States or to your area. While a glass figurine or large stuffed animal might not fit the bill, the jersey of your local sports team definitely would!
Prepare or order a meal that your au pair loves!
A great way to thank your au pair is to have one of her favorite meals for dinner! Whether you make it, order it or take her out to eat, let her know in advance that you're doing this to thank her for her great work. It might be a meal from her home country, or maybe something local that she has learned to love!
If you're looking for unique thank you ideas that your au pair would appreciate, just ask her or him! Au pairs will have opinions about what they'd like to learn, foods they'd like to eat and experiences they'd enjoy. We hope you'll add your own creativity to these tips to help you to reward your au pair! Do you have any additional ideas or thoughts on making your relationship with your au pair even stronger? We encourage you to let us know by commenting below!

Stephanie Willhide
Stephanie started her career working for a cultural exchange program that supports English language learning in Chilean public schools. She came to InterExchange's Au Pair USA program in 2013, and now works as the Web Developer.