---
'Memories That Mean the World: A Royal Welcome'
---
4 minutes
At InterExchange Au Pair USA, we're celebrating our 25th anniversary this year with Memories That Mean the World. What's a Memory That Means the World? For us, it's the type of memory that only happens through cultural exchange, when young au pairs from around the world make unforgettable connections with welcoming U.S. host families.
This month's Memory That Means the World comes from au pair Roxanne, one of the runners-up for our 2014 InterExchange Au Pair of the Year award, and her host family, the Hubbards.
The Hubbards gave Roxanne a royal welcome, long before she even arrived at their home in Ballston Lake, New York, from the U.K.
"The first memory I have is receiving a birthday card by email that Sarah, Emmett and Brigg had made for me after only Skyping once," Roxanne said. "We had arranged a date to speak which was coincidentally my birthday. I hadn't mentioned this to Sarah but she noticed it on Passport [the InterExchange Au Pair USA online system] and took it upon herself to rally round last minute and send me a card before we spoke, such a simple yet thoughtful action that really touched me. We were very fortunate to match early on and had five whole months to get to know one another and build the foundations for a solid relationship."
When Roxanne arrived at our Orientation & Training in New York City, she had a special package waiting for her.
"When I arrived at the Hotel New Yorker for orientation, I had a welcome package waiting for me. I cannot find the words to tell you what that meant to me," she said. "Inside there was medication for my allergies along with a whole host of other small but meaningful touches that really helped ease the anxieties and fears I was experiencing after leaving the life I knew behind."
Once Roxanne arrived at the Hubbard home, she immediately took to the family's three boys, Emmett, Brigg and Dalton, ages 6, 4 and 1.
"Everyday I'm creating memories with the children which I will cherish when the time comes for me to return home, particularly with Dalton, who I am watching change daily from a baby into a boy," said Roxanne. "These moments I share with him are precious, he is only going to be this small for a short period of his life, so I make it a personal priority to capture these moments for [host mom] Sarah throughout the day and send her updates so that she isn't missing a single second of life back at home. I know the day I sent her a video of Dalton standing up alone for the very first time meant the world to her. Already we could put together a photo album of all the photos I've sent her, from messy mealtimes and fun in the tub to baking together and making homemade play-doh. The moments you capture serve as a beautiful reminder of why you became an au pair and why a host family chose this as their method of child care."
For the Hubbards, Roxanne has gone above and beyond from the first night.
"On her first night in the house, our four-year-old Brigg climbed into bed with her at 1:00 a.m. and just snuggled in. In the morning my husband and I searched the house high and low and when we could not find him I decided I had to go in and ask Roxanne," said Ms. Hubbard. "Quietly, I opened the door and found Brigg snuggled down under the covers and Roxanne was asleep. She had been so worried that he would roll out of bed or wake up and cry that she had hardly slept!"
After that first night, the three Hubbard boys have made sure everyone knows that there are two Hubbard girls in the family.
"When the boys have been asked about their family, or draw a picture of 'The Hubbards,' it brings me to tears every time I hear them say, without a moment's hesitation, 'We have two girls in our family; mom and Roxanne, Roxanne is a Hubbard girl too, you know,'" Roxanne said.
For the Hubbards, the Memories That Mean the World with Roxanne will last well beyond Roxanne's year with the family.
"I often tell people that the 'stars aligned' when Roxanne became our au pair. She has taken on the sacred job of caring for children, but more than that, she is our family," said Ms. Hubbard. "I'll miss her asking me 'How was your day?' whenever I return home from work. The children will miss her magical stories of knights and princesses in the far-away land of England. We'll remember with a chuckle, each time she had to change her shirt because of the baby's explosive diaper. I'll fondly hold in my heart each occasion we exchanged a funny story about the children and cried laughing.
"Although Roxanne is only with us for one year, the footprint she leaves in our hearts is lifelong. Someday, we hope to dance at her wedding and send presents for the births of her own children."
Want to read about more Memories That Mean the World? Read our previous posts: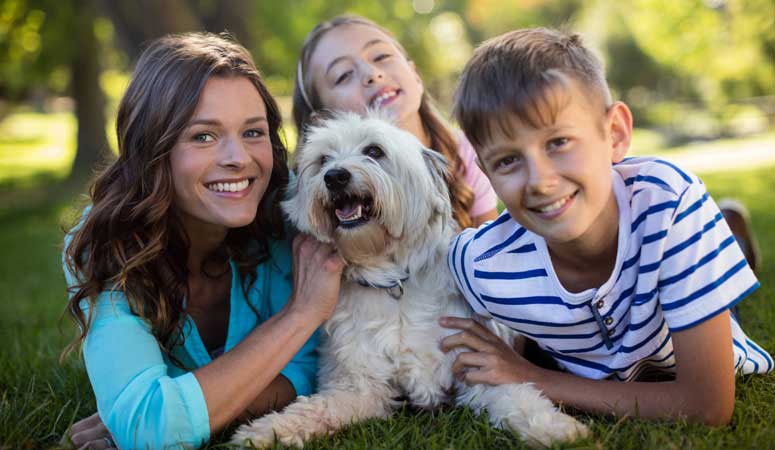 Experience life in the U.S. while living with a welcoming American family.
Sign Up
Learn More
Call Us