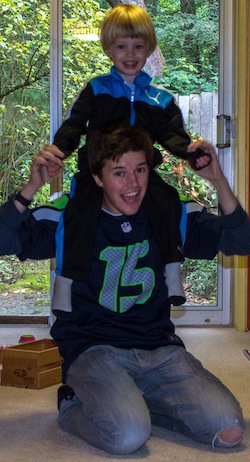 When considering the option to hire an au pair, parents often imagine a female caregiver. However, many families are beginning to take part in an emerging trend that promises to change this perception. They are increasingly hiring male au pairs to help out with child care - including our 2013 InterExchange Au Pair USA Au Pair of the Year.
Au pairs of either sex are extensively pre-screened before their entry into a household is facilitated by a cultural exchange organization. However, getting approved for an au pair program can often be more challenging for male candidates. Male au pairs often experience more intense scrutiny by families and often feel the need to demonstrate an even deeper commitment before entering into an au pair program, according to data from the InterExchange Au Pair USA program. Certain parents have picked up on this and have therefore become particularly keen to host a male au pair, knowing that a young man who is available for this kind of child care must have truly shown his dedication and reliability.
This doesn't mean that the popularity of female au pairs is waning – female child care providers will remain many families' preferred choice, especially for those with young children or young girls who may prefer a more maternal presence.
The increasing popularity of male au pairs does mean that families now have more choice than before. As kids grow up and enter an active adolescence, it can be difficult for working parents to keep up with them, playing sports and engaging in other outdoor activities with their energetic children. For many families, this is where male au pairs can perform particularly well. They often prefer to be very active, enthusiastic and lively, and most importantly, are interested and willing to engage in the same sports and activities as the kids themselves.
Male au pairs are more than just playmates, however – their maturity makes them ideal role models, and helps them ensure that the kids make smart decisions to remain safe while running around and playing outside.
According to one Michigan-area family who hosted a male au pair from South Africa, "The relationship that our au pair Grant has with the boys is amazing. He understands each of them and manages to build on their strengths. Our older son has some special needs which pose no problem for Grant … he is a support system for coping with areas that our son finds stressful. Grant's calm, competent demeanor has a very positive effect on both boys."
According to data from InterExchange, single moms appreciate the benefits of male au pairs, especially mothers of boys who would normally find it difficult to keep up with their sons. As the boys become older and more active, they may seek a bit of life guidance from someone of their own gender. A reliable male au pair provides many working single mothers with that support.