---
Lending a Helping Hand: Au Pairs Visit Hoboken Shelter
---
6 minutes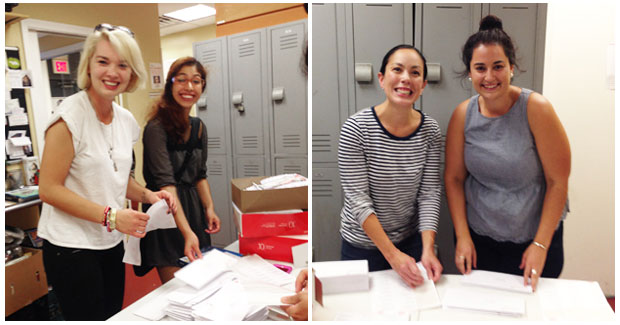 Magda, Mayra, Jessica and Fran help to send out newsletters. Photo courtesy of Stephanie Willhide
Our Hoboken cluster held its monthly cluster meeting for September at the Hoboken Shelter. Organized by Local Coordinator Jessica Liva, the meeting gave au pairs an opportunity to discuss issues and attend to regular business, but also to learn about homelessness in the Hoboken community, lend a hand to the shelter, and meet some of the shelter's guests. It was a positive, constructive, and meaningful meeting.
Fran, from Australia, was particularly moved by the experience. "Attending The Hoboken Shelter was a positive, eye-opening experience for me that brought on many different emotions," she said.
"I did not expect to be greeted on the street an hour after everyone went their separate ways to be thanked again for what I had done that night," she added. "I was a little overwhelmed as I felt the gesture of volunteering, while a wonderful thing to do, was not all that great in the grand scheme of things. However, it did not go unnoticed and was very much appreciated. Never underestimate the impact you can have by doing something that feels slightly insignificant to you; the gesture that seems so small in your world may mean the world to someone else."
When the group arrived, they were greeted by Millie, who was coordinating the volunteer activities. Millie was working in the laundry room when the group arrived.
"We provide laundry service for our guests," she explained. "For someone who is getting back on their feet, the money it takes to visit the laundromat is better spent on food or rent. We allow guests to drop things off here, and we'll do it for them, free of charge."
Millie proudly serves up some delicious meals.
She went on to explain a few of the other services that the shelter offers for its guests. The ultimate goal of the Hoboken Shelter is to help homeless men and women develop the skills they need to gain employment, and to move from the streets to the shelter to their own home.
Here are just a few of the impressive accomplishments of the shelter:
The shelter houses 50 people each night, and serves about 500 meals each day.
In 2014, the shelter helped 141 men and women to move into their own homes.
The shelter served 176,285 meals in 2014 to shelter guests, street-dwelling homeless, and the working poor.
The shelter developed a program that houses 22 men and women in their own apartments.
This is the 2,000,000th meal served by the Hoboken Shelter!
Millie explained that there were computers that guests could use to search for jobs: "We also have a phone line for seeking employment. If they are calling about a job, we don't want it to come up as 'Hoboken Shelter,' so we have a special line that they can use."
The Hoboken Bikeshare employs guests of The Hoboken Shelter.
Reflecting on her experiences, Fran said, "I am not only in awe of the staff at the shelter and the many ways in which they provide for their guests, but also of their motivation to help people find their feet again. The shelter not only houses and feeds people, provides laundry and personal care resources, but also provides resources and forms of support to assist in developing a sense of independence in people and immerse them back into the wider community."
Millie introduced some of the other volunteers. A group from UBC was preparing a chicken salad, and there were some other "regulars" who were washing some dishes. Everyone was very excited to be there, and the sense of community within the volunteers was apparent.
The shelter had a warm and positive vibe!
"What I loved most about this visit was the feeling I got the minute I walked into the shelter," Fran said. "It felt like a place of acceptance, positivity, happiness and promise. The feeling of mutual respect between staff, volunteers, and guests was apparent. I was overwhelmed by how grateful the guests were and how they expressed themselves."
Since the meal was already being prepared, we were asked to help to send the newsletter to the shelter's donors. We had stacks of envelopes and labels, and our job was to label the envelopes.
While the au pairs got to work, they had a chance to get down to "cluster meeting" business, and Jessica answered questions and led discussion among the au pairs.
Image courtesy of Stephanie Willhide
After the group finished working on the newsletter, they set the tables for dinner by distributing water, cups, salt and pepper, cutlery, and napkins. Then, everyone stayed for dinner service.
"The guests were so thankful, polite, and grateful. I look forward to volunteering there again soon," said Jessica, the Hoboken/Jersey City Local Coordinator who organized the effort.
Just one of the delicious meals that the Hoboken Shelter cooks up for guests!
Jessica isn't the only person looking to return; Fran is already planning her donations.
"During this visit, it became clear to me just how simple it can be for the community to band together and make a difference in a single person's life," Fran said. "I love that local businesses make generous donations in various forms, and that locals also make an effort to provide clothing items and donate packaged food. Individuals can also make a difference by doing something as simple as donating a pair of socks (this is one form of donation that is most in need). The Hoboken Shelter is an amazing place and I will definitely be back to volunteer my time again. I'll also be bringing in some socks ready for the cold that is on its way."
To learn more about the Hoboken Shelter, plan a volunteer visit, or make a donation, please visit their page.
Stephanie Willhide
Stephanie started her career working for a cultural exchange program that supports English language learning in Chilean public schools. She came to InterExchange's Au Pair USA program in 2013, and now works as the Web Developer.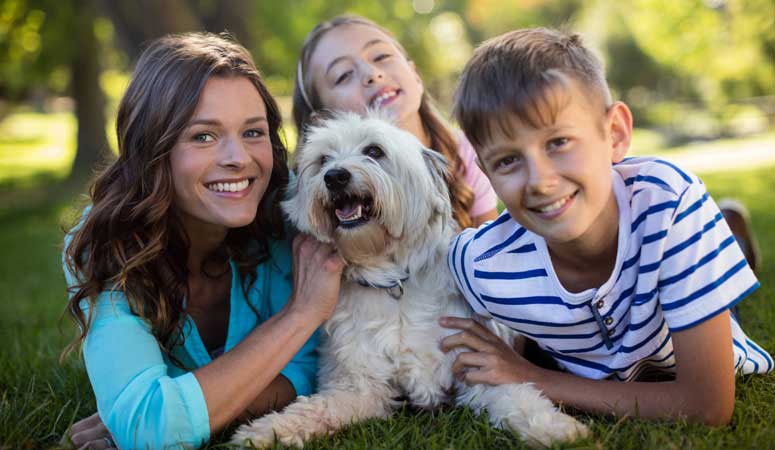 Experience life in the U.S. while living with a welcoming American family.
Sign Up
Learn More
Call Us