---
Nebraska
The Cornhusker State
---
Nebraska is a largely rural state in the Midwest region of the United States. Cattle and cornfields are common sights during a drive through Nebraska, but the cities of Omaha and Lincoln add some metropolitan life to the sparsely-punctuated landscape. With so much wide-open space, it's no surprise that Nebraska has many outdoor activities for visitors. Nebraska has eight state parks, historical trails that trace the routes of cowboys, pioneers and the Pony Express, and many opportunities to hunt, fish, camp, hike, bike and go boating. Nebraska is located in "tornado alley", and thunderstorms and tornadoes often occur in summer, spring and sometimes autumn. Visitors should be aware of the Health & Safety links in our Nebraska cultural guide below in case of extreme weather. To find out more about arts and culture, sports, food and the history of Nebraska, see our state cultural guide below or see www.visitnebraska.com.
Jump to: Historical Sites & Tourist Attractions | Arts & Culture | Sports & Recreation | Outdoor Activities | Food | Local Festivals | Housing Resources | Transportation | Health & Safety | Help Your Community
Historical Sites & Tourist Attractions
Pioneer Village in Minden. Photo by Rolf Blauert.
Add some local history to your cultural exchange experience by visiting a nearby historical site or tourist attraction when living and working in the U.S.
Historical Sites
Harold Warp Pioneer Village contains over 50,000 historical objects and 28 buildings depicting pioneer history from the 19th century to today, including automobiles, planes, farm equipment, a log cabin and a merry-go-round. The museum is located in Minden in south-central Nebraska.
The Homestead National Monument of America in Beatrice, NE looks at the history of the United States in the mid to late 19th century when the Homestead Act granted land to many Americans. Historical exhibits, tours, nature trails, special events and activities allow visitors to see what life was like as a pioneer on the prairie.
The Nebraska History Museum in Lincoln, NE has many exhibits and artifacts related to the history of the Cornhusker State dating back to over 10,000 years ago. Exhibits on American Indians, the Pony Express, World War II and the early days of Nebraska's statehood are examples of the information available at the Nebraska History Museum.
Willa Cather was an American author who grew up in Nebraska and often wrote about life on the Great Plains. Visitors can see her home, her hometown, the Red Cloud Opera House and other historic buildings related to Cather during a visit to Red Cloud and the Willa Cather Foundation; visit the website for more details.
Tourist Attractions
Carhenge is a replication of the famous Stonehenge site using vintage cars in place of stone slabs. Visitors can also see other sculptures at the nearby "Car Art Reserve." Camping is not permitted on site, but visitors can stay at the nearby town of Alliance.
The Durham Museum in Omaha displays artifacts and exhibits that range from restored train cars to 1940s storefronts to popular female rock musicians. Public lectures, tours and special events are also held at the museum.
The Strategic Air & Space Museum in Ashland presents exhibits on space, science, engineering and history, including a large collection of aircraft from the U.S. Air Force. Tours, planetarium shows and special events are available throughout the year.
Tour Companies
Tourism Websites
Arts & Culture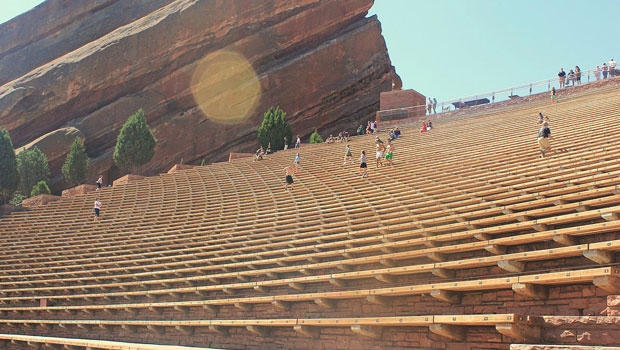 Red Rocks Amphitheatre. Photo by Mitul0520 .
The United States offers a wide variety of cultural learning opportunities through the arts. Dance, music, theater, opera, art museums and festivals are just some of the options available to international visitors who wish to experience the U.S. and its culture.
Art & Cultural Museums
Performing Arts
Sports & Recreation
Many Americans are passionate about sports – and not just baseball and football! Get a glimpse into this part of American culture by watching or participating in a favorite U.S. sport or recreational activity in your local area.
Nebraska has no major league professional sports teams, but international visitors can watch live American sports games from minor league sports teams and at local colleges.
College Sports
Examples of college athletic programs in Nebraska include:
The Nebraska Cornhuskers, also known as the Huskers, are particularly well known for their successful college football team. The team holds a record for the most sold-out games in a row; in November 2012, the team had it's 325th consecutive sold-out game.
League Sports
Outdoor Activities
The United States is home to a variety of landscapes and climates to suit all types of outdoor activities. The courageous traveler can find extreme sports and outdoor adventure tours, while others may want to keep both feet on the ground in a national park or forest. Whatever your interests, take advantage of the many outdoor activities available during your time in the United States.
Ashfall Fossil Beds State Historical Park in northeast Nebraska displays well-preserved fossils from 17 species of animals that died after a volcanic eruption 12 million years ago. Visitors can see the fossils, including new fossils that have recently been discovered, walk on nature trails, and learn about the history and geology of the area.
Chimney Rock is a rock formation near Bayard in western Nebraska and a former landmark for pioneers on the California, Oregon and Mormon Trails. Today, visitors can take tours of the area and view museum exhibits and video presentations about the area's history at the visitor's center.
Fort Niobrara National Wildlife Refuge in north-central Nebraska protects a wide range of flora and fauna, including bison, elk and prairie dogs. A self-guided driving tour is available to view animals and historic sites on the refuge, and visitors can also take a nature walk or explore the Fort Niobrara Wilderness Area on foot or by raft.
Scotts Bluff National Monument was a landmark for Native Americans and pioneers on the Oregon, California and Mormon Trails. Outdoor activities available at the monument include hiking trails, ranger-led tours, living history demonstrations and a shuttle trip to the summit of Scotts Bluff.
The Stuhr Museum is an outdoor living history museum that allows visitors to experience the pioneer history of Nebraska through interactive exhibits, activities, demonstrations and guided tours. Sites at the museum include a log cabin settlement, Pawnee Indian site, a railroad exhibit and a farm machinery building.
Food
One of the best ways to experience cultural exchange is through food and cooking. Visitors will enjoy exploring the regional specialties and local cuisine during their time in the United States.
Many Nebraskans can claim German, Danish, Czech or Italian heritage, so visitors may find ethnic dishes from these countries during their travels in Nebraska. And as a largely rural state covered in flat, prairie land with many cattle ranches and farms, beef is a popular menu item in the state. You can also find local foods made in Nebraska at the Fresh from Nebraska website.
Farmers' Markets
Browse a map of local farmers' markets in Nebraska to find fresh fruit and vegetables and homemade products from local vendors in your community.
Food Festivals
Local Festivals
For a unique and local perspective on American cultural, be sure to check out festivals and events near your cultural exchange program location. These events are a fun and interesting way to interact with locals and to learn more about American culture by experiencing it firsthand.
In March, the Omaha Film Festival shows feature films, short films, documentaries, animated films, experimental films and a special section of Nebraskan-made movies from independent filmmakers in the United States and around the world. Over 90 films are screened at the weeklong festival in Omaha, and visitors can also attend workshops and other events.
Kool-Aid Days celebrates the drink that was invented in Nebraska, Kool-Aid! The festival includes games, contents, food, activities at the Hastings Museum and lots of Kool-Aid.
Nebraskaland Days in June is the state's biggest rodeo and acts as a celebration of Nebraskan culture and heritage. The event also includes an art show, parades, live music, food, family activities, a heritage festival and much more. Nebraskaland Days is held in North Platte, NE.
The Winnebago Pow-wow is a cultural event hosted by the Winnebago Tribe of Nebraska. The June festival lasts for four days and includes traditional dancing, music, food, performances and other events.
Maha Music Festival celebrates Omaha's arts and music scene and features national and local indie rock bands performing on multiple stages. Ticketholders can bring chairs or blankets to the one-day August event.
The Nebraska State Fair in late August/early September is held in the state capital of Lincoln and has been a local festival for over 140 years. The event includes agricultural shows, parades, marching bands, live concerts, a petting zoo, races, cooking contests, carnival rides and much more.
In August the Wilber Czech Festival celebrates the Czech heritage of Nebraska with three days of traditional music, food, costumes, activities and parades in the town of Wilber, which is also known as the Czech Capital of Nebraska.
Housing Resources
Employers may be able to assist with housing during your time in the United States, but this is not always possible for all participants. When looking for housing during your cultural exchange program, consider the cost of the accommodation, the distance to your work place and the amount of time you will be in the United States.
It's also important to avoid fraudulent housing. It is highly recommended that you secure short-term housing upon arrival (e.g. in a hostel) and conduct your housing search once you are in the U.S. Never give your financial information to a stranger over the Internet. Browse the Housing Information guides for InterExchange participants below for more tips and advice.
General Housing Information
Nebraska Housing Resources
Some examples of housing and accommodation resources for Nebraska participants include:
Transportation
Public transportation options can be hit or miss, depending on your location in the United States. Buses are a common transportation option for short and long-term travel in the U.S., while some areas will also have trains, subways and other options.
Public Transit Systems
Visit the American Public Transportation Association website for a complete list of public transportation options in Nebraska communities, including:
There are a limited number of public transportation options in Nebraska, and most visitors may wish to travel by car, if possible.
Bus
Greyhound and Megabus operate bus services in Nebraska and to surrounding areas. Greyhound service connects to a nationwide system of buses that travel across the United States.
Train
Amtrak's California Zephyr route travels from Chicago to California and makes stops in Omaha, Lincoln, Hastings, Holdrege and McCook.
Health & Safety
Nebraska is known to have violent thunderstorms and tornadoes in spring and summer, but they can also occur in autumn. Participants in Nebraska can use the following resources in case of an emergency or extreme weather event in their area:
Emergency Management Agencies
FEMA
Weather Information
Help Your Community
Interact with others and expand your skill set by volunteering in your local community. Volunteer organizations are often looking for short-term volunteers or for individuals to help with a single event, making it a great option for InterExchange participants who wish to add to their cultural exchange experience during their time in the United States.
Volunteermatch.org, Idealist.org and Serve.gov are three general volunteer websites that match local organizations with volunteers in their communities.
Habitat for Humanity builds low-cost housing for families in need and runs shops called ReStore to raise money for their work. Volunteers can help build homes in many locations in Nebraska – no experience required! Find a local affiliate and see how you can help as an individual or part of a group.
Food Bank for Lincoln and Food Bank for the Heartland are two examples of organizations in need of volunteers. Individuals or groups can volunteer to help with tasks like sorting donations, packing boxes, unloading food trucks and many other activities.
Short and long-term projects with Nebraska State Parks are available to individuals and groups, like cleaning up a park, planting trees or helping out at an information desk. Visit the website above to learn more about the many volunteer opportunities available.
Volunteer at the Lincoln National Guard Marathon and Half Marathon in May. Volunteers can help at the finish line, starting line, during the course and at events before and after the race.