---
My First Month Au Pairing in Australia
---
4 minutes
May 15th, 2016: A new home with an incredible view!
After many tearful goodbyes, I left Detroit airport at 5:00 p.m. on Friday. A 24 hour flight from Michigan to Colorado to LAX to Melbourne dropped me in Australia at 7:00 a.m. on Sunday! I forced myself to stay awake until it was 8:00 p.m. on Saturday Australian time to try to acclimate to the time change. Maybe this is the trick because I never experienced jetlag. My legs were restless so after unpacking I walked two blocks from my host home to the bay to watch the sunset. I cannot believe this is almost my backyard!
May 18th, 2016: Beautiful views… and penguins
After I get the boys ready for school and drop them off, I run to the St. Kilda pier. This is the view I am spoiled with every day. It definitely beats running on a treadmill! Also, the mom and dad penguins return from fishing to feed their babies around sunset so if you have a chance, visit the St. Kilda pier in the evening to see a small colony of penguins. During the day, the baby penguins can be found hiding in the rocks!
May 22nd, 2016: Hanging out and seeing the sights
I met up with some other au pairs on Friday and Saturday night. We went to the Emerson on Friday, which is a club and bar. It is a big venue, but I wouldn't recommend going a second time.
On Saturday, I met some au pairs at Kiki Riki for some live local authentic Latin music and culture. I bike everywhere from my host home, and I see so much of the city and attractions on accident just from biking through the city. Australia is very serious about their bike policies so you must wear a helmet and both head and tail lights!
On Sunday, I met my now best friend at the Eureka Tower's Sky Deck. It is the tallest building in Melbourne and stands 975 feet! Go a bit before sunset so you can see the city by daylight, the gorgeous setting sun, and the city lights in the darkness.
May 25th, 2016: Luna Park
Today I ran through the Catini Gardens to Luna Park! The park is iconic and free to go in and walk around. In my opinion, the rides are very expensive and not worth the money! Go see this incredible entrance, though!
May 28 & 29th, 2016: New friends and a trip to the Grampians
Some au pairs and friends from a backpackers group met for the first time and took a 15 person weekend trip to the Grampians! It was gorgeous, and I made some best friends!
June 8th, 2016: Trying new foods at the night market
On Wednesday nights the Queen Victoria Market in Melbourne's CBD hosts a "night market" where there is live music, fire pits, and food trucks! Some friends I met on Melbourne Backpackers and I met there. I bought this awesome vegan soup called Luksa.
June 10th, 2016: Fun with the boys!
The boys had a school holiday today so we worked on a puzzle after a long day of playing in the park.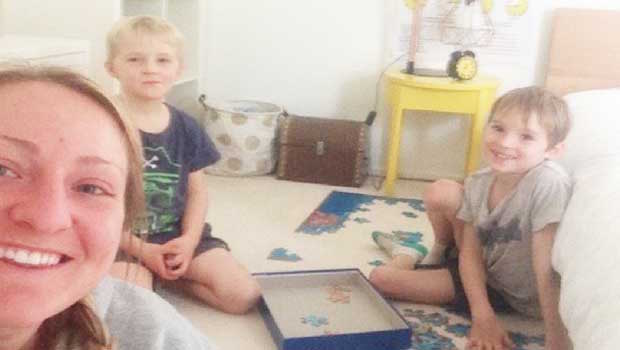 June 11th, 2016: Delicious coffee in Melbourne
All of the coffees in Melbourne are incredible! They take coffee very seriously here. I was told it is also the fashion capital of Australia. I love that it is not customary to tip in Australia like it is in the USA. The price of a meal is the price of the meal. The end.
June 15th, 2016: Where has this month gone?
I have officially been in Australia for one month. Time is flying by already! I stay in touch with my friends and family back home by sending each other one picture everyday. It doesn't matter of what; it just has to be some part of your day or a funny GIF or meme so that we are not strangers when I return next March. I also Skype and Facetime my friends and family every week. Today was especially nice (even though it is Australia's "winter;" it is nothing compared to the United States) so I Skyped a friend at the café two blocks from my home. They are always jealous because this is the view they get of me!
Brittany Perlaki
Brittany is a participant on InterExchange's Au Pair Australia program.
Join a friendly Aussie host family and experience life Down Under!
Sign Up
Learn More