---
How Our 2012 Grantees Empowered and Advanced Their Host Communities
---
4 minute read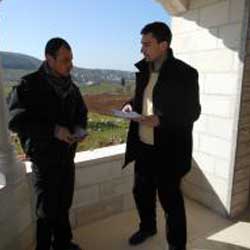 Philip I.
Ramallah, West Bank, Palestinian Territories
Philip worked for Kiva, an American non-profit microfinance organization that aims to expand the reach of microcredit globally by providing interest-free capital to local microfinance institutions.
The rub was that I had just settled into a rewarding job in New York. Whereas in New York I had friends and a paycheck, in the Middle East I would arrive with neither. Kiva Fellows are unpaid, and I was to be the organization's only representative in the region. "Go," my friend said. "You won't regret it." I went, and I haven't looked back since.
My time as a Kiva Fellow was stimulating and rewarding. It is the first time that I'd spent time in Palestine, and I was thankful to have spent it with the warm and welcoming staff of Kiva's partners. They put up with my broken Arabic and were patient with my incessant questions about the Occupation. They taught me technical, finance-related Arabic for speaking with borrowers and street-slang for speaking with friends. … I am indebted to the field staff for introducing me to borrowers and for explaining to me the realities and quirks of microfinance in the Arab World.
Read more about Philip's project
---
Natalia L.
Cape Town, South Africa
As a paralegal with People Against Suffering, Oppression, and Poverty (PASSOP), Natalia provided legal advice to refugees and immigrants with regard to documentation, labor, and housing issues. She also advocated for the needs of the disabled in Cape Town.
My main responsibility was as a paralegal. … More specifically, I helped clients write appeal affidavits when their application for asylum had been rejected. This meant that I had to get the details of why they left their country of origin and look up country conditions in that country to make an argument as to why they qualified as refugees.
By learning as much as possible about my clients' countries of origin, I helped them feel comfortable with me and trust me, so that they would be open and honest with me. I wanted them to feel that when they spoke to me about a place, a politician, or a political party, that I knew what they were talking about and could understand the problem.
Read more about Natalia's project
---
Mirno P.
Pune, India
Mirno worked with CHF International on a community-based approach to achieve concrete goals, such as improved sanitation, as well as abstract ones, such as dignity and empowerment.
"My past experiences leading up to this work in India prepared me to adapt to change, but I found myself having to do so on a much larger scale while volunteering in India. The realities of implementing these international projects is daunting at first, but it is necessary to realize what you can do and how. That is the biggest lesson from this experience. Facing moments when things were not going according to plan, you had to take a good, thorough look at yourself and what it is you can do to actively make changes. At times this can be humbling, at times exciting. It all depends on how you approach the problem."
Read more about Mirno's project
---
Juliana B.
Mbarara & Bugoye Uganda
Juliana was as a Research Fellow with the Global Medicine Program, a sub-residency program within Massachusetts General Hospital that emphasizes health equity in the U.S. and around the world. She rotated through a clinical site in Uganda, splitting her time between the in-patient wards at Mbarara University of Science and Technology (MUST) Hospital and the outpatient department at Bugoye Health Center (BHC).
I learned the true meaning of social medicine, and its primary care and community health components. It means on a micro-level, connecting personally to treat patients and families, and on a macro-level, understanding the pathologies and socio-economic causes of diseases endemic to the local people.
"Uganda and its people transformed me on a personal level: I learned to rely on myself for emotional strength in challenging situations and to learn from others, sometimes reaching over cross-cultural boundaries, in achieving a collective mission. I evolved professionally and was able to develop the skills and relationships necessary for driving sustainable projects in low resource, collaborative environments – tools which will serve as the foundation for my career in medicine and scientific research."
Read more about Juliana's project
---
Kelsi H.
Uganda, Cambodia, and Guatemala
Kelsi's yearlong program with Midwife International combined community service work, leadership training, and international midwifery training. During the year, Kelsi had the opportunity to work with midwives from around the world, all with many cultural and educational backgrounds.
"As a prospective international midwife, the Christianson Fellowship gave me the opportunity to gain a deeper understanding of the current state of maternal health around the world, as well as how I can impact this field in the future. Currently there are very limited options for learning international midwifery. This opportunity helped me connect my many experiences of birth and maternal health into one."
By InterExchange Staff
InterExchange is proud to have an experienced team that is dedicated to international cultural exchange. We come from a variety of backgrounds, but nearly every member of our New York City-based staff has extensive experience traveling, working, or living abroad.