With its surreal natural beauty, unique flora and fauna and quirky charm, New Zealand offers you an unforgettable adventure. Our Work & Travel program gives you the freedom to experience the best of New Zealand for up to a year while you work abroad. Want to surf in January? Ski in July? Go kayaking in the Abel Tasman National Park? Try your hand with livestock or fruit-picking on an organic farm? Whatever kind of adventure you have in mind, you can find it in New Zealand!
Opportunities
Our international partner posts thousands of jobs each year — from positions around Auckland City to jobs that could take you to the most beautiful parts of New Zealand. Most jobs are low-skill and temporary in nature (warehouse work, hospitality, office temp. jobs, farm work, etc.), allowing you the freedom to work for a few weeks or months and then take time to explore New Zealand!
Many jobs don't require previous experience so don't worry if you haven't worked before. If you have applicable experience or specific skills, we do have some jobs that would help boost your resume (e.g., waitstaff and chefs).
Jobs posted this year have included
Tourist/Resort Jobs in the Bay of Islands, Taupo, and Queenstown
Fruit Picking in Hawkes Bay and the Nelson regions
Kayak guides
Jobs at ski resorts
Wilderness lodge assistants and cooks
Baristas, wait staff and kitchen hands
Housekeepers
Check out this video below created by Rachel, one of our Work & Travel New Zealand participants:
Frequently Asked Questions
What are the dates of the program?
We accept applications for our Work & Travel New Zealand program on a rolling basis. There is no set start or end date. You'll decide your exact program dates and can stay in New Zealand for up to a year.
How does the application process work?
Our online application is free and easy to complete, and we're always here if you have any questions. Sign Up.
What happens after I apply?
After you submit your application, we'll make sure you've got everything in order and reach out to you for an informational interview.
Once you've been accepted into our program, we'll advise you on getting your visa and set you up with our international partner, who will be there to support you on the ground throughout your adventure in New Zealand.
How will I be supported on the program?
We're here to help you with your application, provide pre-departure support and guidance, and support you throughout your time abroad.
Moving to the other side of the world can be stressful. We smooth your transition by handling logistics and connecting you with fellow travelers.
We provide you with:
Visa assistance
4 nights of accommodation to help you recover from the long flight and explore Auckland
A comprehensive orientation session covering searching for a job, travel and other logistics
Assistance in opening a bank account and getting a local tax file number
A SIM card and phone number
Mail holding and forwarding services
Inexpensive luggage storage in Auckland (about $1 NZD per day)
Help finding jobs and housing
Advice on all things related to living, working and traveling in New Zealand
Alumni resources once you've returned home
WWOOF New Zealand membership (must apply by December 31st, 2015)
What will I learn in orientation?
During orientation, you'll meet other travelers in New Zealand on Working Holiday Visas and our in-country support team and learn how they can help you during your travels. Orientation will cover:
How to find a job, including CV advice
How to find short- and long-term housing in New Zealand
Where the best places are to travel in New Zealand
Renting or buying a car
Mobile phone service in New Zealand
How to set up your tax account, including applications for IRD (tax numbers)
How do you help me find a job?
Our international partner posts job leads from businesses seeking short-term, temporary employees in its online jobs database. They also have relationships with recruitment agencies seeking temporary office workers. You'll join a "Members" website that keeps you up to date on job opportunities throughout your time in New Zealand. If you need some extra help, staff are available to speak with you in person, through email or by phone.
How long will it take me to find a job?
If you are proactive, professional and open to various types of jobs (rather than aiming for one specific position), you can find a job quickly! There are many jobs available and most of our participants land their first position within their first one or two weeks.
Can I get a job placement before I get to New Zealand?
No, job offers cannot be secured before you land in Auckland.
How much will I earn in New Zealand?
The amount of money you earn depends on the type of job you do, but hourly pay is often much higher in New Zealand than compared to the U.S. job market. Plus, certain jobs (like farm work or resort work) come with great perks.
The minimum wage is reviewed every year, and for 2015 is $14.75 NZD per hour before tax. You can expect to receive around $12.00 NZD after tax at the minimum wage rate and many jobs pay significantly higher.
What else should I know about the Work & Travel New Zealand program?
Can I travel with friends or family?
Absolutely! We often have friends, relatives or couples travel together on our Work & Travel program. If you go solo, you're bound to meet other "working holiday makers" from around the world, one of the best parts of the program. Your orientation will take place in an upbeat office in the heart of Auckland, where there are many participants connecting with each other about travel plans, jobs and apartment hunting, and of course, using the free internet.
Can I leave New Zealand and re-enter?
Yes. The Working Holiday Visas is a multiple-entry visa, which means you can leave the country and come back during the 12 months your visa is valid.
Do I have to stay in New Zealand for 12 months?
No. You can stay as long as 12 months, but there's no minimum stay. We recommend staying for at least 6 months in order to get the full experience.
Can I extend my Working Holiday Visa?
No, U.S. citizens are only eligible for the Working Holiday Visa for New Zealand one time.
Can I take classes while on a Working Holiday Visa in New Zealand?
Yes, you can study for up to 3 months.
What happens when I arrive in New Zealand?
You'll be transported from the airport to your hostel in Auckland, where you'll get 4 nights to recover from your journey and connect with fellow travelers. You'll then choose which of the 2 orientation times would best fit your schedule during your first 4 days.
Can I work for the same employer the entire time of my stay?
Yes. You can work for the same employer for up to 12 months but many jobs are very short term.
How much does housing cost in New Zealand?
It depends on where you live, but you can expect to pay at least $150 NZD per week for a shared apartment/room in a house.
What other costs are there to consider?
Airfare
Savings (access to $4,200 NZD)
Travel health insurance (available through InterExchange, if needed)
Sign up and start your application!
What our participants are saying
I went abroad with InterExchange to Australia and New Zealand. I definitely would recommend it! My sister and I did a lot of the WWoofing program because we wanted to experience the full culture of the country. You stay with very friendly people and it is definitely a phenomenal experience. Bonnie I know if I need anything I can send a quick email and be assisted right away. I feel secure with [InterExchange] staff and am grateful for the extensive information that has been provided. Keirsten
Related Articles
Thomas Thursday November 07, 2013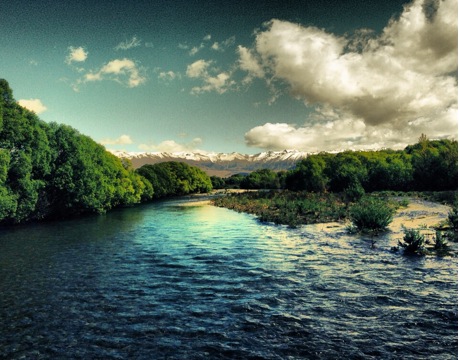 Mt. Cook is located in Aoraki National Park on the South Island of New Zealand. At 3754 meters high (12,316 feet), Mt. Cook is the highest mountain in New Zealand! I decided to treat myself for a trip because Monday, the 28th, was my 19th...