Itinerary
Most days will begin with a group breakfast and end with evening activities and free time. With a few exceptions, your meals will be included throughout the program. We'll have a few fun surprises along the way but this is our general itinerary for the week!
Day 1 - Welcome to Costa Rica!
Arrive in San José, meet the group and trip leaders
Orientation including information about daily activities
Welcome dinner and spend the night in Alauela
Day 2 - Caribbean coast and conservation site visit
Start the day with a five hour drive over the mountains to the Caribbean coast
Visit a local initiative helping to reintroduce Great Green Macaws into their natural habitat
Learn about the community initiatives that have helped sustain the project and enjoy the natural scenery
Day 3 - Coastal bike ride and Jaguar Project
Hop on a bike to explore the coastline with the chance to spot local wildlife along the way
Visit the Jaguar Rescue Center, a temporary or permanent home for ill, injured, or orphaned animals
Group dinner
Day 4 - Boat ride and Bri Bri community introduction
Head inland to the rural community of Bri Bri, an indigenous community of Costa Rica
Take a magical boat ride up the river to the town of Yorkin
Learn about the community's effort to rebuild the local cacao industry, which had been plagued by a fungus
Day 5 - Community activities and school visit
Learn more about the Bri Bri community and their sustainable chocolate making process
Engage with community members for some casual activities such as football
Enjoy a local dinner with the community and some dancing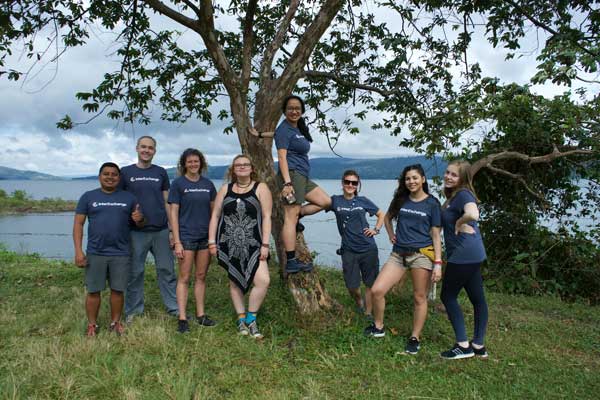 Day 6 - Surfing
Return to Puerto Viejo in the morning
Enjoy a surf lesson in the afternoon!
Day 7 - Iguana farm and jungle hike
Visit a local iguana farm and learn about their efforts
Hike through the jungle to a waterfall and enjoy a swim
Day 8 - Sea turtles and farewell dinner
Visit one of the bases of Latin American sea turtles* and learn about the endless efforts to protect them from poachers (*season specific and may be substituted)
Return to Alajuela for a farewell dinner
Closing activities
Day 9 - Breakfast and departures
Depart from San José airport
Optional and extra cost: transfer to Manuel Antonio for an extra week of beach time and Spanish classes! Pura Vida!
Itineraries are subject to change.