Itinerary
Most days will begin with a group breakfast and end with evening activities and free time. With a few exceptions, your meals will be included throughout the program. We'll have a few fun surprises along the way but this is our general itinerary for the week!
Day 1 - Welcome to Costa Rica!
Arrive in San José, meet your peers and group leaders
Attend orientation including information about daily activities
Welcome dinner
Day 2 - NGO visit and farmer's market
Visit an NGO providing diverse education programs for San José residents
Learn about the partnerships that make their work possible
Check out a local farmer's market in San José and explore the city
Day 3 - Rainforest hike and wildlife
Transfer to La Fortuna (3 hours)
Try your hand at making your own tortillas, and enjoy a wholesome lunch
Hike through the rainforest at Arenal Volcano, spotting wildlife and learning about the area
Settle in to the hotel in La Fortuna and take a short walk around town
Day 4 - Waterfall and volunteering
Short hike down many steps through the forest to La Fortuna Waterfall
Chat with representatives of the organization managing the area
Help with a conservation volunteering project
Refresh with a waterfall swim!
Day 5 - Rainforest zipline
Take a short hike and tractor ride through the forest to our ziplining site
Learn how adventure activities like these are designed with local and environmental concerns in mind
Visit a traditional village and nature sanctuary
Zipline across the forest canopy and see what you can spot from above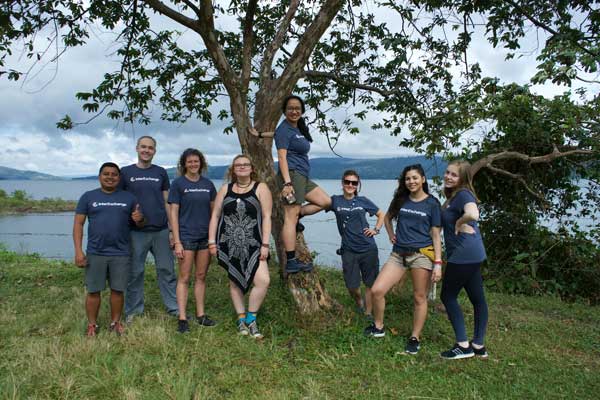 Day 6 - Eco-center and wildlife spotting
Visit a local ecological reserve supporting colorful birds, butterflies, insects, mammals, reptiles, and amphibians
Discuss the reserve's work in conservation, training, cultural preservation, and education
Learn about Costa Rica's Ecological Blue Flag program, an initiative set up to create standards and improve public health and tourism
Enjoy the grounds and spot some incredible wildlife!
Day 7 - Sustainable farm, volunteering, and hot springs
Tour a sustainable farm situated at the edge of the cloud forest and rainforest, two similar but unique eco zones.
Observe diverse birds, reptiles, mammals, insects, and plants
Learn about the farm's off-the-grid food production, hyrdoelectricity, compost, and biodigester operations
Have a delicious and healthy lunch
Soothe your sore muscles by relaxing in the natural hot springs of Arenal
Day 8 - Local market and farewell dinner
Transfer to San José
Visit a market and enjoy some good local food
Closing activities
Farewell dinner
Day 9 - Breakfast and departures
Depart from San José airport
Optional and extra cost: transfer to Manuel Antonio for an extra week of beach time and Spanish classes! Pura Vida!
Itineraries are subject to change.